Myrtha Pools has built another important project for one of the most famous chains of luxury Hotels: it's Hilton Marco Island Beach Resort and Spa, which has just completed a 40 million dollar renovation to ensure that its guests enjoy a higher level of services and amenities.


This resort is located on the Gulf of Mexico in South Florida, very close to the main attractions of the area. It offers first class service in a luxury location.

Among the Hotel renovations there are three "Made in Italy" swimming pools: Myrtha Pools has provided three outdoor swimming pools, a few meters from the beach. These pools provide a wide entry with stairs and lifts, to allow a comfortable water access for every single guest of the building.

It has been a significant project for the company, but at the same time it revealed many difficulties. One challenge was the adverse weather conditions, which sometimes slowed down the installation operations.

However, since the moment of the order – end of July 2016 – to the opening of the new areas – December 2016 – the swimming pool's construction developed in record time from the production in Italy, to the shipping to the building site, to the assembly of every single component and to the inauguration of the facilities.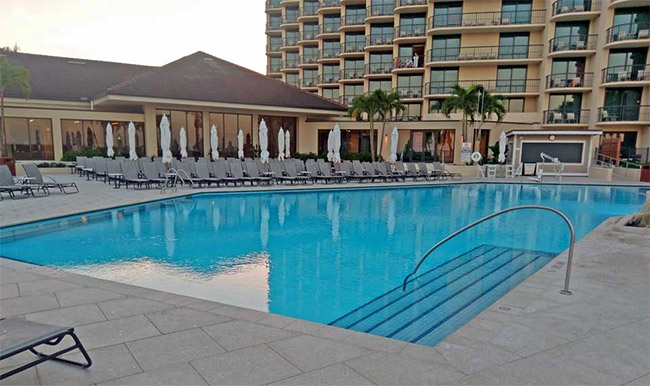 The rapid lead-times resulted in an excellent final product and also represents one of the benefits ensured by Myrtha Technology used for the swimming pool implementation. Additional benefits include low maintenance costs, long life of the pool and the extremely flexible planning.

The water areas made by Myrtha Pools at the Hilton Marco Island Beach Resort and Spa include a spa pool, with hydro massage, underwater lights and a skimmer recirculation system; a multilevel fountain, with elegant backlit water blades that flow into the main pool; a leisure pool elegantly moved by the waterfalls of the fountain above and provided with a recessed overflow gutter, underwater lights and comfortable relaxing benches.