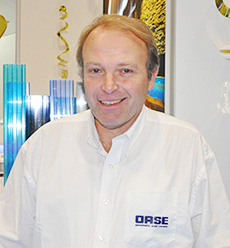 Frédéric CLAEYS
The Belgian manufacturer of OASE automatic swimming pool covers celebrated its 50th anniversary this year. Based in Proven (Belgium) and today directed by CEO Frédéric Claeys, the company is one of the most experienced European suppliers in the swimming pool technology sector.

Fifty years ago, in 1968, engineer Bertrand Claeys developed at his home a motorised shutter for outdoor pools and decided to market the result of his experiment under the name Oase.
The company presented the product to the general public for the first time in 1970.
On the basis of numerous successful local installations, Frédéric Claeys decided to join the Oase project in 1991 and began export activities with Piscines du Nord in Marcq-en-Baroeul (France) and BTU Pool Services in Woking (UK). Initially concerning only neighbouring countries, more projects would later be completed abroad, including Russia, Australia, China and the US.

In 1996, Oase delivered and installed a pool shutter in Hong Kong for a 9 x 24 m pool in the quintessential residential district known as 'The Peak'. Since then, the Belgian company has completed a long list of prestigious projects. The continuous growth of its activities required a more suitable structure and the offices and production unit relocated to spacious facilities in Proven (Poperinge).

In 2004, Oase was the first to offer a shutter with polycarbonate panels, which have today become the standard quality for outdoor pools and increased its production area by over half in 2012 thanks to the construction of 3,000 m² of industrial premises.
Today, exports to over 25 countries represent 60% of sales, including 15% outside of Europe.

Oase celebrates 50 years of experience in new offices. These new offices in their new building and the renovation of existing facilities symbolise two fundamentals of the company – stability and modernity.