40th anniversary of Gerit, the companies providing technical components for swimming pools
"Reflections", the concept of the event
"Reflections" is the concept of the event that took place on 20th September at the Bolzano Trade Fair.
There was a convention/event at the Bolzano Trade Fair celebrating the 40th anniversary of Gerit, one of the leading companies providing technical components for swimming pools. The event, with strong support from the Merler family who run the company, was an important occasion for sharing and discussion, as well as an opportunity to thank the entire group, suppliers, partners, and everyone who has helped the company to reach this major accomplishment.
Reflections is the concept designed by ACCESS Live Communication for Gerit: 40 years is an age for taking stock of everything: it is a good time to stop, take a look back and also look forward, strengthened by the experience gained, but going forward with the desire and ambition to grow even more. 40 is the perfect age to reflect, celebrate the goals achieved, and make new ones: a new logo, a new website on the way, and the brand-new Gerit Wellness & Spa Technical Showroom. But Reflections is more than just that: retroreflectors, plays of light, and vibrations. Reflections evokes all of the magic of water in motion: that magic that Gerit has been creating for the last 40 years with its components, and which ACCESS recreated throughout the evening.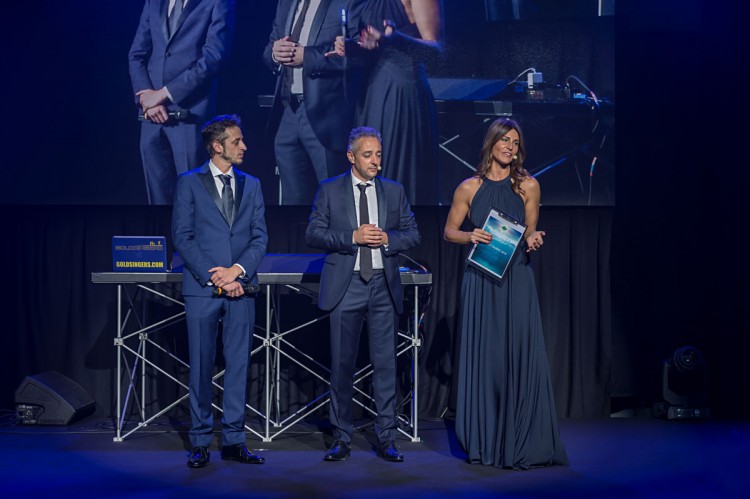 Dreamy atmosphere at the Bolzano Trade Fair
The Bolzano Trade Fair venue was transformed into a lively, amazing space with a dreamy atmosphere, where artists and management took turns to grace the stage.
One Thousand Dance, directed by Luca Rapis, gifted the audience with a contemporary dance show and special effects that portrayed the concept on stage using a very evocative choreographic language.
Throughout the whole evening, there was a mix of emotional moments, from the speech made by the family in remembrance of the company's founder, to the various guests and artists there who made the event unique.