Now more than ever, EuroSpaPoolNews is here to help the pool and spa industry...
Because we have to be by your side, you the professionals of the swimming pool and hot tub industry, all our teams are working to adapt to this unprecedented situation. This is why we have decided to keep going and produce our Special Spring, an English/French bilingual print edition which is sent out to over 8,000 professionals in France and Europe every year.
However, due to these exceptional circumstances, EuroSpaPoolNews has taken action and is helping support the entire industry.
The Special Spring therefore becomes a flip book renamed #KeepInTouch for the occasion and sent out digitally to all our subscribers, accounting for over 20,000 people in 5 languages.
EuroSpaPoolNews has also developed a platform to support your initiatives. Finally, all the articles in this issue are fully published with the help of our website and social networks.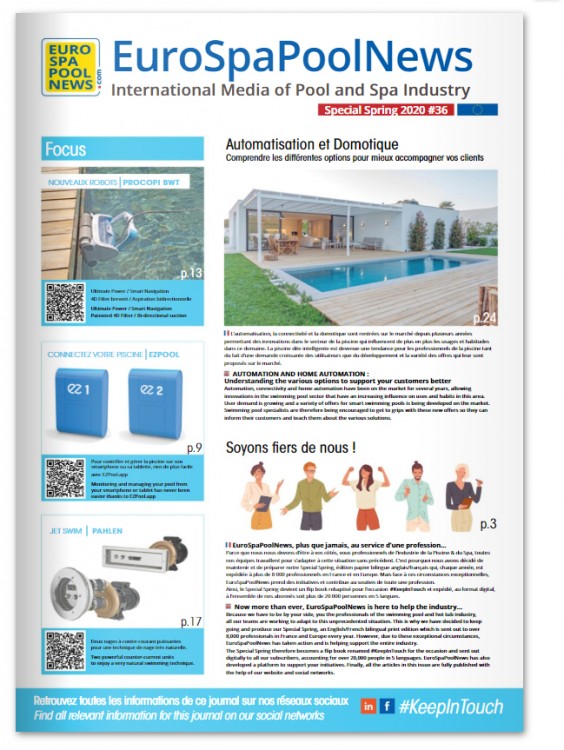 Solidarity initiatives by pool companies
Whether individual or collective, small businesses or large groups, we have seen so many professionals rally together to help fight the Coronavirus outbreak (Covid-19).
Some of them have innovated and/or adapted their production to help the medical sector or to protect the general public.
In this way, Espiroflex got together with the car manufacturer SEAT to make breathing tubes.
Fluidra has made nearly 100,000 pieces of expendable equipment for standard respirators in intensive care units.
Gaches Chimie has converted its production plant to make hydroalcoholic solutions and also organised a drive so that all healthcare workers in the region can get some supplies in complete safety.
Pool Technologie has got together to help local communities by offering its sodium hypochlorite production.
Finally, federations in this sector such as the FPP (Federation of Swimming Pool and Hot Tub Professionals), BSPF or ASOFAP have also played a huge role during this crisis by supporting professionals and working with the public authorities.

Reorganisation while following safety standards
Swimming pool and hot tub professionals have proved how well they can adapt in the face of the Coronavirus outbreak (Covid-19). Many businesses have been affected. Having initially closed and then gradually reopened, manufacturers and distributors have reinvented how they work to keep serving their partners and customers.
Many of them have reorganised their structure while respecting health guidelines to protect their staff and customers and still keeping their services running. Production sites have been able to keep running.
Digital technology has also allowed some businesses to offer remote training, often for free, to develop order management tools, to provide an after-sales service, or to offer webinars to their customers.

The solidarity, responsiveness and ingenuity shown by those in the swimming pool and hot tub market means we can be confident in the sector's future.

The entire IMC team is by your side, ready to support you for the recovery and its new challenges! We will move forward together...
A huge thank you to our advertisers
because without you this magazine might not have been possible!