The prize for the swimming pool sector has been awarded annually since 2013 by the European Union of Swimming Pool and Spa Associations (EUSA) in cooperation with the national pool federations from Europe for the most beautiful private used swimming pools.

The most beautiful pools in Europe will be honoured at aquanale 2023
In total, a bronze, silver and gold winner was announced in the following seven categories: Domestic Indoor Pools, Domestic Outdoor Pools, Domestic Pools with an Enclosure, Domestic Pools with an Automatic Cover, Domestic Pools by night, Domestic Spas and Domestic Hot Tubs.
The European Union of Swimming Pool and Spa Associations (EUSA) was founded in 2006 with headquarters in Brussels. The EUSA represents over 2900 companies. It promotes the sector and its members and defends their points of view to European policy makers. The EUSA generally meets twice a year in the country of its president in order to discuss all current figures, data, statistics, developments, technical problems and to establish standards. It thus contributes to a large extent to the constant and fruitful development of the pool and spa sector.
The crowning achievement of this rewarding collaboration is celebrated every year by the EUSA award at various trade fairs. This year, the EUSA Award will celebrate its 10th anniversary. The competition was launched in Cologne in 2013, and in this decennial year the award ceremony will be held once again at aquanale, hosted by EUSA president Bert Granderath of bsw, the German pool federation, on 24 October 2023.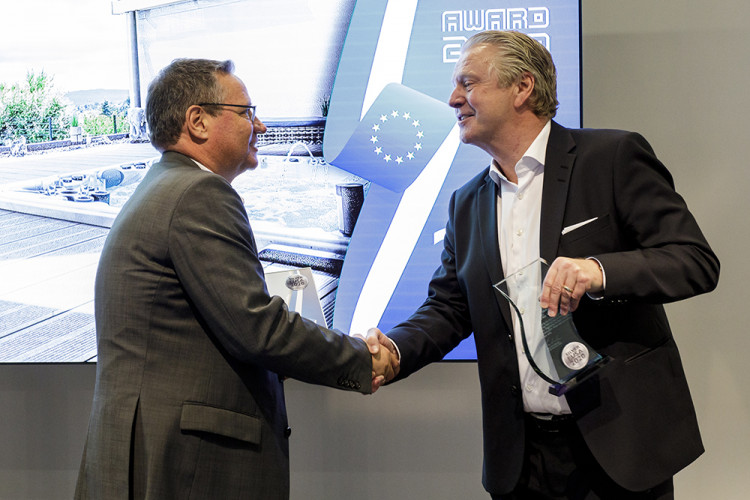 EUSA President Bert Granderath (right) at the awards ceremony