Spatex 2010 – the UK's Pool, Spa & Lifestyle show to be held in Brighton from Saturday 6 to Monday 8 February – looks to be flying in the face of the UK's economic woes. The organisers report an "unprecedented" number of new exhibitors, with around one third of the show's 100-plus bookings being first-timers.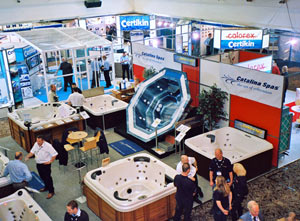 Show director
Michele BRIDLE
says: "
We are delighted with the bookings figure for 2010 – more than we had ever expected in the circumstances, and we have

sold out all available space

. There is a lot of new blood, and something for everyone – pool and spa professionals really cannot afford to miss it
."
The optimism in the lead-up to the show makes up for the absence of some major industry names and long-time previous exhibitors – not to mention a couple of high-profile business failures in the industry during the year.
Michele
says a number of
new features and enhancements
to existing attractions are planned for
Spatex 2010
, including:
An all-new Commercial Pool Operators Centre

, staffed by industry experts for the duration of the show who will provide a direct link to participating exhibitors with the relevant products and services

Three focused lunchtime sessions for pool operators in the Technical Arena

, run by the Institute of Swimming Pool Engineers (ISPE)

Eleven new topics for the popular Workshop and Demo Programme

, along with some new presenters

An all-new 'Pool & Spa Buyers' Guide to Everything' walkway

– designed to give potential or existing pool and spa owners the opportunity to compare products and prices across the entire budget range.
Logistical changes include the
return of the SPATA Awards & Gala Dinner Dance to the Metropole Hilton Hotel
– putting the Spatex Show and Awards Dinner under the same roof for the first time in several years, a change from the traditional Sunday-Tuesday timeframe to open the show to as wide an audience as possible, and a discount on NCP car parking rates at car parks more conveniently placed for the venue.
A host of new product to be launched at SPATEX 2010 and loads of competions with fabulous prizes to be won
> Product launches at SPATEX 2010
Product launches at SPATEX 2010 include:
New professional two-part Underwater Adhesive and Sealant System. Repairs and Seals Pools & Spas. Use wet or dry - even works on dirty underground pipe work from

UNIPOOLS GROUP - Stand U 107

The new RGB compact light from

Aqua De-light - Stand L179

A new collection of 'goldline' mosaics from

The Mosaic Company Stand U115

New Lo- Clor concentrated spa & hot tub cleaner & instant Filter cleaner from

Total Water Products - Stand L102

The new Monitor AMI Codes CC for the continuous measurement of free, combined and total chlorine in pool water from

Swan Analytical Stand L100

New Vertical Axis Wind Turbines from

Swimming Pool Bead - Stand U144

New Leaf catcher for skimmer pools & overflow pools and AS control digital panel from

Aqua Solar - Stand L134

New ULTRA TUFF -A new and unique water based, single component paint system utilizing rubber granules and PEBBLEFLEX: Offering a unique blend of technology and practicality, Pebble-Flex,a soft safety surface that is UV light stable and chlorine resistant from

Poolsafe Stand U135

The new TEC 3000 Chemcial Controllers from

Topline Water Chemistry Systems - Stand U115
> The SPATEX Competition
Monday 1.15 – 2.15 in the Technical Arena
Teams to fit all faceplates on sumps, skimmers, inlets and lights inclusive of changing the bulb – each Team in their own pool - AND ALL THIS UNDER WATER!!
> Prizes/Competitions & Raffles SPATEX 2010
A sauna to be won from

Artesian Spas - Stand U131

Win a spa from the

Dynasty Spa Competition - Stand L146

A luxury Golf weekend to be won from

Elite Spas Stand L178

A magnum of Champagne lotto draw from

Original Style Stand L145

Triton II Sand Filter 24" with Clear Pro Technology to be won from

Pollet Pool Stand L141

A case of fine Australian wine prize draw from

Total Water Products Stand L102

A new TEC 3000 Chemical Controller from

Topline Stand U128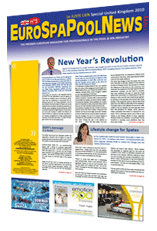 On this occasion, we publish a special edition of EuroSpaPoolNews: Le Juste Lien Nb5, Special UK 2010 (in English)
3000 COPIES PRINTED Distributed to Spatex visitors and exhibitors and available online throughout the year!
All information is available on the website before and after the show in several languages, and included in our newsletters! !