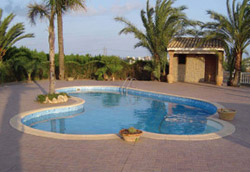 Renolit AG is an international leader in the manufacture of high-quality thermoplastic films and products.

The company makes reinforced linings for swimming pools and its new Alkorplan 3000 is an innovation in the market of printed reinforced pool liners.

Renolit developed a membrane with a new acrylic multi-layer coating which enhances the materials resilience against environmental impacts.

The improved and thicker lacquer gives better protection to the print finish against scratches and abrasion, against staining and ultraviolet degradation, and shows better resistance to bacterial and fungal attack.

A swimming pool lined with Alkorplan 3000 will last longer, stay cleaner and better keep its colour and design.

Alkorplan 3000, such as the existing plain reinforced membrane Alkorplan 2000, has been proofed superior to the French specifications norm NFT 54-803-2.