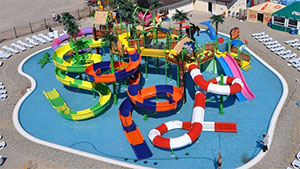 The expansion of the Ukraine's Orbita Aquapark includes that region's largest water-play structure and its first pneumatic-propulsion slide. Today, Koblevo's newest aquatic offerings at the Orbita Resort are giving guests more space in which to play. In fact, the waterpark is now the largest in the area.
An expansion to the Orbita Aquapark in Koblevo, Ukraine, is giving tourists just one more reason to visit an area long-known for being a haven of rest and relaxation. The park, which debuted in 2011, recently opened with an even greater variety of aquatic attractions.

The park's owner was so impressed with its popularity after its first summer that he immediately began plans with Polin Waterparks and Pool Systems (Istanbul, Turkey), which had supplied the facility's original rides, to begin an expansion with even more waterslides and a giant water-play structure.
A Resort Replete With Incentives

The Orbita resort, which the waterpark adjoins, is known for its appealing amenities and central location on the seafront. While the Orbita waterpark is designed for the pleasure of guests of the resort, outside visitors can also purchase passes that give them access to its water-filled fun amusements.

Modern Attractions That Thrill

The waterpark is now the largest in the area after growing from its original size of 8,000 square feet (86,111 square kilometers) to its current size of 12,000 square feet (129,167 square kilometers).

Two of the newest attractions, in particular, will stand out to this year's visitors: the park's Paradise Island water-play structure and the Looping Rocket waterslide:

Paradise Island Aquatower. The bright colors and strong characters of this kid-focused aquatic wonderland will cause pint-sized visitors to run with abandon toward its wide assortment of water cannons, tipping buckets, slides and net climbs. The Aquatower 800 is one of Polin's most popular designs, due especially to its ability of

giving children the opportunity to move, play and explore safely. This unit, at Koblevo, is particularly impressive due to its size and number of options and its strong

theming. It's now the largest water-play structure in all of Russia and the Ukraine.
Looping Rocket Waterslide. This extreme waterslide, which uses a pneumatic propulsion system, is the first of its kind in the Ukraine. Referred to by Polin as

the Rocket Launcher, this system delivers a thrilling beginning to a ride full of heart-thumping fun as guests shoot along a path that unexpectedly drops 20 meters

(65 feet) and then zips through a horizontal loop before splashing down at the exit.

The Looping Rocket also gains points from guests for its great-looking "Magic Shine" translucent exterior. All of the waterslides in the park are all Polin's "Magic Shine".

Magic Shine as Polin call them are the waterslides produced by L-RTM (Light Resin Transfer Molding) technology. LRTM is the leading growth technology in fiberglass production. Polin is the single waterslide producer in the World that can offer its all line as RTM manufactured. All the waterslides at Orbito Waterpark have a shiny, and smooth finish that creates a superior look.

The other new attractions Polin has installed at the park include:
BLACK HOLE. This enclosed tube slide is Polin's most popular ride due to its incredibly unique experience. With its NLE technology, the slide provides riders with a

unique, dramatic visual effect within the ride while they travel at high speeds through its exhilarating twists and turns.
RAFTING SLIDE. An open tube slide, this attraction's family-friendly design allows guests to ride together. With the same sections as Polin's Black Hole, it also allows guests to enjoy the experience of both an open and a tunnel slide in one aquatic attraction.
WIDE RAFTING SLIDE. This huge family slide is an open tube design, which offers an unforgettable rider experience. It also offers the same sections as Polin's Black

Hole Slide, allowing parks to combine these two into one waterslide that offers the experience of both an open and a tunnel slide.
KIDS AREA. When children aren't exhausting themselves on the Paradise Island AquaTower, parents will find them playing beneath the flowing water of Polin's delightful Clown Shower or Giraffe Shower.
For the record the first waterslides that Polin has supplied in 2011: Wave Slide, Space Hole, Rafting Slide, MultiSlide, Black Hole and kids waterslides.