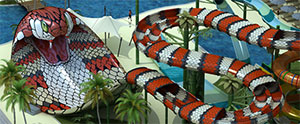 The all-inclusive "Crystal Waterworld Resort & Spa" will open on June 1st, in Belek, Antalaya, Turkey, with a variety of waterslides and a water-play structure. The fun will be provided in the form of an outdoor waterpark featuring some of the most-thrilling aquatic attractions available and offered exclusively to the resort's guests.
Specifically, the property's waterpark will feature a King Cobra waterslide, along with a variety of other slides and a huge, themed water-play structure. All attractions are designed and being installed by Polin.
The King Cobra waterslide "is extraordinary in not only the entertainment it offers, but also in its overall looks," said Ramazan Kaynakci, General Manager, Crystal industrial. "It is gorgeous, exhilarating and entertaining, all at the same time. We believe that the addition of this attraction to our resort is moving us to the next level in meeting our customers' interests and needs."

King Cobra offers one of the most intense riding experiences in the industry, as well as providing major visual impact and spectator appeal. Its core feature is its unique configuration that enables two double tubes to race through a circular path of twists, turns and surprises. The heart-pounding ride concludes after an adrenalin-spiking drop down the snake's belly as racers simultaneously plummet into its valley.

Other rides that the new five star 886-room resort will offer include:

SPACE BOA:

engineered to combine the excitement of the Space Hole attraction with the thrill of the Black Hole, this ride allows for either single or double tubes.
TURBO LANCE: one of Polin's extreme slides, this attraction provides a rush of variety via different sliding paths.
BLACK HOLE: this enclosed tube slide is Polin's most popular ride due to its incredibly unique experience. With its Natural Light Effects technology, the slide provides riders with a unique, dramatic visual effect within the ride while they travel at high speeds through its exhilarating twists and turns.
RAFTING SLIDE: an open tube slide. This attraction's family-friendly design allows guests to ride together.
FLYING BOATS: Flying Boats are available in two configurations. One is a downhill ride, while the other is an uphill, rollercoaster-style ride. Both provide a bracing surprise drop before riders splash into the exit lanes.
AQUATOWER WATER-PLAY STRUCTURE: tipping buckets, slides, net climbs and water cannons will make this feature the center of fun at Crystal Water World.

Other attractions at the new resort include an amphitheatre, garden, ballroom, steam bath, business center, fitness facility, Turkish bath, both outdoor and indoor swimming pools, hookah bar, sauna, spa, private beach, cinema, mini golf, motorized water sports, canoes and an onsite doctor and beauty salon.