Darlly Europe focuses on the supply of superior quality filter cartridges to the pool and spa industry. Its stock levels have been increased to 40,000 units to cope with escalating demands for its products.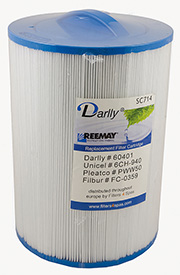 Since the company started, it has been dedicated to supplying better filters, better service and at better prices. It claims to be the only supplier of replacement filter cartridges to provide an unqualified guarantee on its products.
Darlly only uses high quality materials including Reemay filtration fabric. Thanks to worldwide recognition of the quality of its products, they manufacture filter cartridges for many of the biggest OEM's.

Provide a better service is central to Darlly Europe's management objectives, which highlight customer's experience as being fundamental to all they do. Indeed, delivering customer value is extremely important to them.
One of its main values is also to provide a better product at a better price; but never to compromise on quality.

This has been shown to work with a brand that is acclaimed by consumers in Europe.

The company is actively seeking to expand its network of distributors and further develop its dealer network. For further information, its 2017 brochure is available on its stand in English, French or German.

To be discovered at PISCINE GLOBAL 2016 in LYON
Stand 6D109