RENOLIT ALKORPLAN TOUCH is the new 2mm reinforced membrane by ALKORPLAN. Thanks to its technical qualities and attractive designs, it has become the strongest, most durable and resistant lining on the market.
It complements the range of RENOLIT ALKORPLAN reinforced liners, which have become the most widely used lining for pools in the world.
Relax

The big difference between this reinforced liner and the other reinforced liners on the market is its thickness. The normal thickness of reinforced lining is 1.5 mm whereas RENOLIT ALKORPLAN TOUCH is the first 2mm reinforced liner, which gives it greater resistance and durability.

The TOUCH liner revolutionises the market for pool lining, made up of two flexible sheets of PVC fused and totally waterproof, it doubly guarantees no water loss. But, in addition, these two sheets are reinforced on the inside with a mesh of highly resistant polyester, which acts like a spine and makes the reinforced liner a robust product with great mechanical resistance.

The special thickness of this new liner allows its designs to have relief and provides an exceptional and pleasant touch.
The six models add personality to any pool and allow to create unique, personal spaces in the garden.
Their designs are inspired by nature and each of them is designed to line pools forming part of different atmospheres.
| | |
| --- | --- |
| Vanity | Authentic |
Authentic: ideal for lining pools in natural, rustic surroundings with pebbles or lots of greenery. Country pools with the texture of clay or sandstone.

Relax: with a colour similar to fine, beach sand, it is ideal for exotic atmospheres that transport to faraway, Caribbean beaches with crystal-clear, turquoise hues.

Elegance: with elegant, dark veins like those in slate, it is the lining for cosmopolitan pools, turning the water a deep blue colour.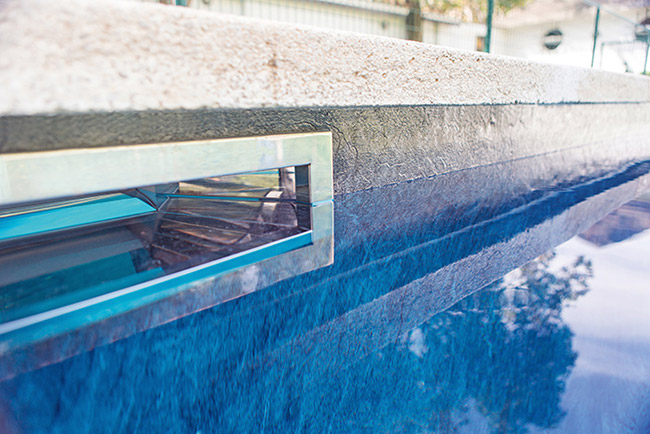 Elegance
Vanity: for spectacular, ostentatious pools.

Sublime: emulates fine travertine marble and is the perfect lining for trendy, modern pools.

Prestige: pools that evoke a paradise of volcanic rock, especially designed for minimalist, designer environments.
| | |
| --- | --- |
| Sublime | Prestige |