The 150/100th Xtreme reinforced membrane is exclusively distributed to pool installers by APF. The French company benefits from a 10-year exclusive distribution contract for this reinforced PVC by Renolit Alkorplan.
A reinforced membrane designed to stand the test of time

Xtreme reinforced membrane offers multiple advantages
APF is especially proud of this privilege due to the success of the membrane among professionals. There's no doubt that this membrane offers multiple advantages. To start, it is a 150/100th reinforced membrane, consisting of a polyester fibre structure and two layers of PVC for a solid and long-lasting lining.
In addition, its exclusive varnish that covers both sides prevents discolouration, resists dirt and prevents the formation of the bacterial, fungal and algal deposits that become sources of indelible stains on the surface. Owners can say goodbye to faded pool colours thanks to colours that keep their freshness over time. Even the darkest shades last for years without altering. In addition, the membrane comes with a 5-year anti-discolouration warranty. It is also guaranteed against staining for 5 years and benefits from a 15-year watertightness warranty. Xtreme comes in 7 fashionable colours: Ice (white), Sahara, Fresh Blue, Azur, Silver, Volcano and Onyx.
Finally, its remarkable capacity to resist chlorine aggression withstands the test of time - a significant advantage for intensive-use pools that require larger doses of chlorine treatment products. It has been designed for easy installation, increased durability and easier waterline maintenance while offering a trendy palette of colours, all with anti-slip treatment.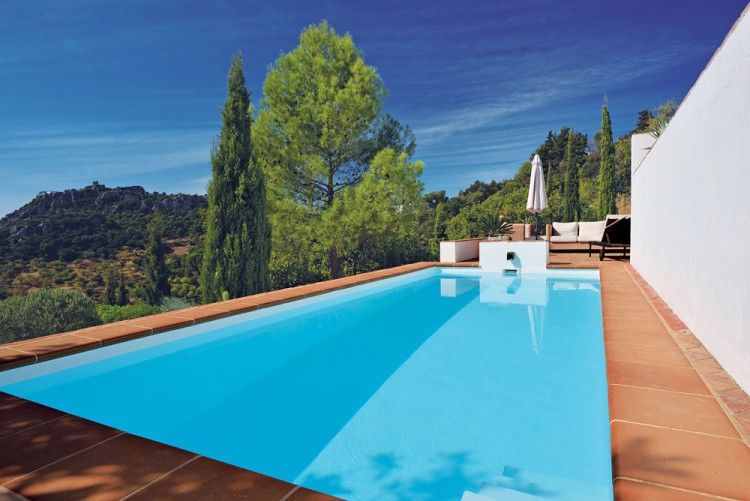 Xtreme Ice