Use high purity salt to disinfect swimming pool water
Increasing numbers of pool owners are opting for salt electrolysis to disinfect their swimming pool water. Indeed, the process of electrolysis converts swimming pool salt into chlorine, but without the unpleasant smell or stinging eyes. With clean, fresh bathing water as a result. Careful though: Not every type of salt is suited for disinfecting swimming pools. So do not buy just any type of salt.
1.Does the swimming pool salt damage the swimming pool in any way?
European standard EN 16401 lays down the composition, the level of purity and moisture content requirements which swimming pool salt needs to comply with. This is specifically aimed at the treatment of swimming pool water with an electrochlorinator.

The salt needs to have a purity level of at least 99.4% NaCl (sodium chloride).

The standard defines maximum values for metals such as copper, iron and magnesium.
The salt is not allowed to contain additives such as anti-caking agent (E535 or E536) or iodine.
Failure to comply with this standard may potentially damage the electrochlorinator or produce stains in and on the swimming pool basin and equipment.

2.Has the swimming pool salt been tested for safety?
The use of biocides is strictly regulated in Europe. Biocides are used to neutralise organisms. They include insecticides, algicides, mouse poison, disinfectants, fungicide, etc.
In actual fact, swimming pool salt (sodium chloride) is not a biocide but a raw material or input for chlorine. Since 2014, this type of 'precursor' also comes under the application of the Biocidal Products Regulation BPR 528/2012. To ensure a high level of protection of human and environmental health, this regulation bans the use of biocides and precursors that contain the following substances:
carcinogenic, mutagenic and reproduction-toxic substances
endocrine-disrupting substances
persistent, bio-accumulative and toxic substances (PBT substances)
highly persistent and highly bio-accumulative substances.
Swimming pool salt which complies with the Biocidal Products Regulation has been extensively tested for safety and may therefore be used with confidence. The use of unregistered swimming pool salt has been banned.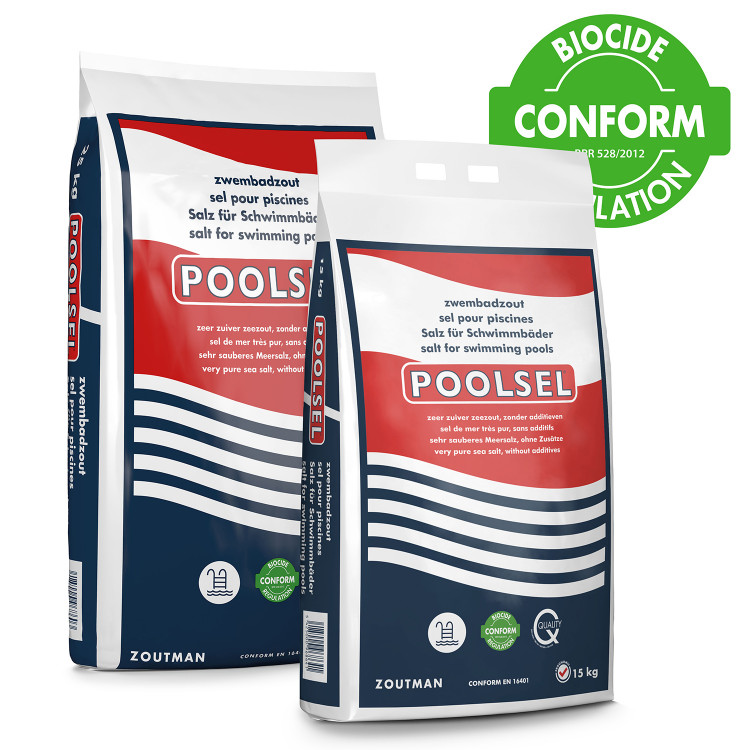 Poolsel
3. POOLSEL® salt offers these quality guarantees
ZOUTMAN's POOLSEL® swimming pool salt is a pure sea salt without additives, such as anti-caking agents. This salt is EN16401 type A and BPR 528/2012-certified. This salt is popular with swimming pool salt users in the Benelux and Germany. It is packed in sturdy quality foil and comes in ergonomic bags of 15 kg with a carrying handle, 25 kg bags and big bags.
More info : https://www.zoutman.com/en/products/water-treatment/swimming-pool-salt/poolsel