Pool Cover Systems has designed and manufactured motorised swimming pool safety covers for over 10 years. Made of polycarbonate or PVC slats, its top-quality covers are distributed solely by a professional network of pool installers.

Pool Cover Systems: production, storage, delivery in Europe
A brand new site in Belgium to double its production capacity
Pool Cover Systems bv has enjoyed sustained growth for some time now. The Belgian company has recently relocated into larger premises at a new site in Weelde, in the Flemish Region. It will thus be able to double its production capacity for pool safety covers over the next 2 years. The factory has opened a second production line to produce Pool Cover Systems slatted protection systems.
The company can thus stock a greater volume of motorised covers within a larger storage space.
Fast delivery for pool professionals
Pool Cover Systems pool covers are marketed and exported to many European companies. The superior quality of the slats and tubular motors of its covers enables the company to count on a domestic and international clientele of pool builders that has grown over the years.
In Belgium, the company relies on its own transport network to ensure fast delivery.
Premium made-to-measure pool covers
Tough, durable PVC and polycarbonate slats
Pool Cover Systems safety covers are made of 78 mm wide PVC slats or 60 mm or 75 mm polycarbonate slats.
Designed to protect, Pool Cover Systems slatted safety covers have a load-bearing capacity of 7.8 kg/m, creating a safety device that prevents children from accidentally falling into the pool.
Thanks to its insulating properties, the pool cover limits pool water evaporationand cooling, so pool owners also save money on water treatment products.
Thanks to their very thick UV-resistant upper layer, these PVC and polycarbonate slats are hard-wearing, offer a shinier appearance, and age more slowly.
Their anti-algae opening enables frequent rinsing of the open part in the pool water, slowing the development of alga and increasing the durability of the safety cover.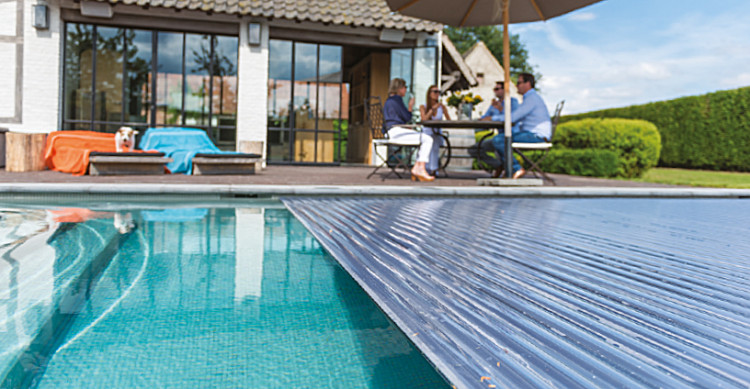 Numerous cover colours are available to match the pool environment
The manufacturer's PVC pool cover slats are available in trendy solar blue, white, light grey, anthracite grey, azure and vanilla.
Polycarbonate slats come in solar blue, solar clear and solar metallic colours.
Solar slat profiles have a transparent upper layer and a black lower layer that ensure strong heat emission, enabling the pool water to gain up to 4 degrees per day.
Safe, motorised pool covers
For user comfort, both above-ground or immersed Pool Cover Systems safety covers are equipped with a tubular motor. The opening and closing of the cover is controlled via a digital remote control unit. Its user-friendly screen displays the operational status of the cover and any system malfunctions.
All the manufacturer's motors are designed and assembled on their production site. All assembly parts are 316L stainless steel.
The roller axle of the tubular electric motor is made of anodised aluminium or stainless steel.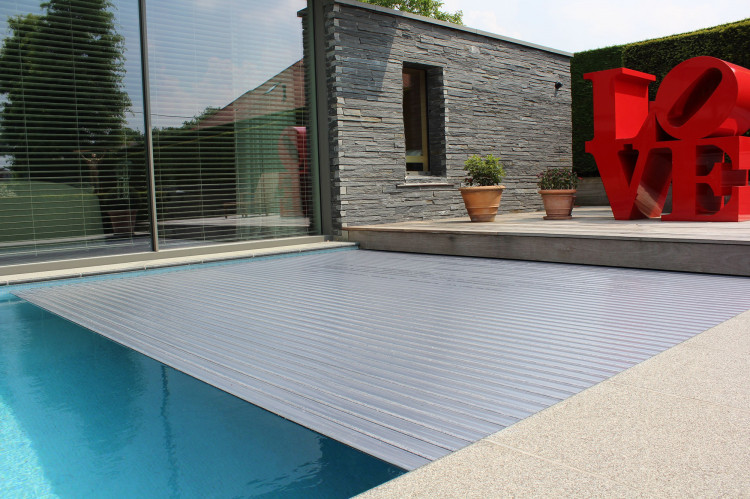 Pool cover Pool Cover Systems
Become a dealer and installer of Pool Cover Systems in Europe
Pool professionals - would you like to become a Pool Cover Systems partner to distribute and install their premium-quality safety equipment? Contact the Pool Cover Systems commercial manager, Simon Ryckewaert.
Pool Cover Systems professional partners can count on reliable delivery, fast service and respected deadlines. The pool equipment manufacturer is deploying all means to meet its growth in the short term.
As a Pool Cover Systems distributor and installer, you help your customers reduce their consumption of water, treatment products and heating.