iQmfort is a complete solution of intelligent Peraqua® pool technology for fully automatic pool control. With the automation of the pool technology, you can achieve long-lasting, hygienically clean pool water - the principle for sustainability, safety and hygiene in daily pool operation.
Who doesn't want an all-in-one solution for the pool?
Good, networked control technology for the pool saves the pool owner a lot of time, is energy-efficient and contributes to sustainable operation. With the right pool technology, there are many possibilities for automation. Filter & filter pump, skimmer with level sensor, EO510 electrical fittings, dosing system/salt electrolysis system, underwater lighting and heat pump can be connected to the new Control-P6 control system and enable completely automatic control of the pool.
iQmfort, the complete solution of intelligent Peraqua® pool technology
The heart of the iQmfort pool is the Aquastar® Control-P6, which can be used to control many functions of the entire pool technology:
Automation of backwash and filter times with user-friendly weekly schedule
Level control for automatic regulation of the water level in the pool
The pool is automatically heated or cooled via the target temperature in automatic mode of the Smart heat pump.
Measurement and automatic control of ORP and pH based on real-time data
And much more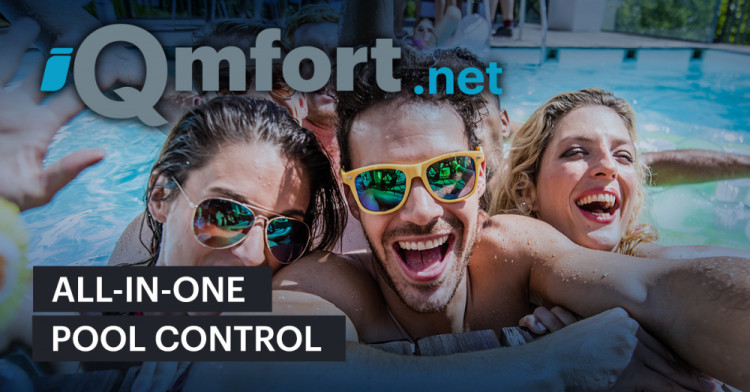 Make your pool automatic
For automatic pool operation, it is primarily important to expand the manual 6-way backwash valve (1 ½", 2" and 3") with the Aquastar® Control-P6. Like all Aquastar® models, this new pool control can also be very easily mounted on the valve. Two free relays and digital inputs enable flexible integration of other pool technology.