Rock Pool is an innovative system of self-supporting modular panels, in reconstituted natural stone, fiber-reinforced and lightened, to be easier to handle. This process was developed and patented by the Italian company Carobbio. It makes it possible to build any shape and size of swimming pool, allowing great creative freedom in projects.

Concrete pools of all shapes and sizes that can be fully dismantled: a patented process by Carobbio
With Rock Pool technology it is possible to build pools of any corner radius. Pools with rounded shapes are also permitted thanks to curvilinear panels, allowing the construction of totally creative free-form pools.
Assembling a Rock Pool is quick and can be done in just one day.
Video of the construction of an above-ground swimming pool in self-supporting modular panels Rock Pool
Technical characteristics of the Rock Pool swimming pool construction process
The main innovative aspect of the modular panels for Rock Pool pools lies in the amount of cement used, with a thickness of only 1.5 cm. This distinguishes these precast concrete panels from the traditional metal panels used to build swimming pools.
This above-ground or in-ground swimming pool solution therefore combines the solidity of cement with the speed of execution of factory-prefabricated panels. The self-supporting modular panels are built with latest generation and high resistance materials (RCK 50), certified according to UNI EN 16582 legislation and are anti-seismic. Their warranty is 10 years.
Thanks to their polystyrene exterior, Rock Pool concrete panels also provide thermal insulation for the pool, to retain the heat of the water accumulated during the day.
Another advantage of pools built with the Rock Pool modular system is that they can be completely dismantled, simplifying the procedures to be carried out with the local authorities (find out if a declaration of works is necessary or not depending on the municipality and its local urban development).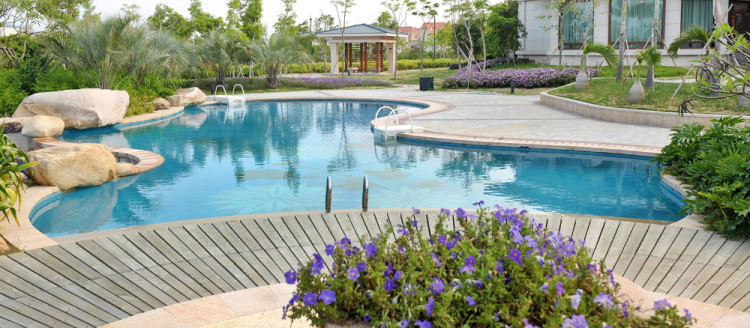 The Rock Pool modular system makes allows the construction of totally creative free-form pools
Full swimming-pool customisation
Standard Rock Pool panel heights are 150cm, 120cm, 100cm and 80cm. Stairs (standard or custom), stone coping and internal benches are also available to create a unique Rock Pool.

This self-supporting modular panel pool construction system is compatible with all types of liners and ceramic mosaics, and offers great flexibility in creating an aesthetic design to suit the environment and the owner's taste. The owner benefits from a quickly built, customised pool that can be finished in any way possible. Rock Pool precast concrete panels can also be used to create overflowing pools or pools that follow a sloping terrain to create a structured pool area.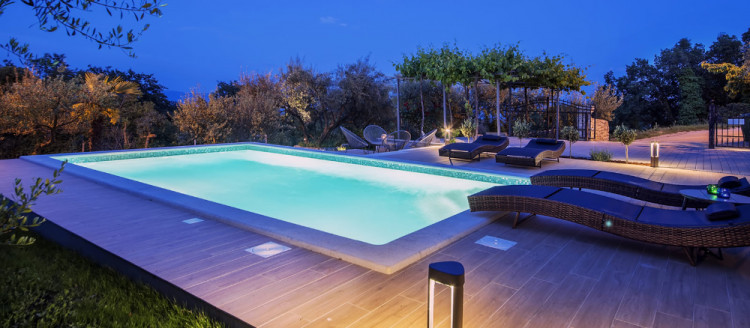 Rock Pool swimming pool of Carobbio
Each pool project is studied by the company's in-house engineers, who can respond to all kinds of pool configurations (above ground pools with deck, infinity pools, mirror pools, free-form pools, plank pools, public pools, seaside pools...).