Wellis, an Europe's leading manufacturer of hot tubs, has for many years been paying close attention to sustainability in the development and design of its products. Thus, the manufacturer offers a wide range of products that enable each user to personalise their spa with accessories for an uncompromising spa experience.
One of the most energy efficient spa collections
While devices for home wellness are increasingly able to meet the growing demands of environmental sustainability, energy saving is more and more becoming a pocket issue.
The Wellis's philosophy is that the experience, comfort and pampering of a wellness centre can be enjoyed with minimal energy use, and this applies equally to water consumption and electricity consumption.
Special attention to sustainability in the development and design of Wellis products
Aware of the importance of the respect for the planet, the spa manufacturer develops spas that are not only ergonomic, but also more ecological, while striving to meet the needs of its customers. Its main objective is to provide them with the same experience, or even an improved experience, while using the least possible energy. This means careful choice and use of materials, on the one hand, and a sense of purpose in operation, on the other.
This is highlighted in the latest range, which the manufacturer has developed over the past 3 years. This one of the world's most energy-efficient collection of hot tubs, which will be on display at exhibitions in Europe and the US, features new designs, new solutions and a new insulation system, easy-to-install.
Meanwhile, the increased performance achieved by using half the number of hydro-massage motors not only makes the massage experience more relaxing, but also saves money. Test results show that the new generation of devices will be more efficient than even the best-consuming hot tub currently available: half a hundred patents and proprietary innovations used in their development make them a world leader in consumption optimisation.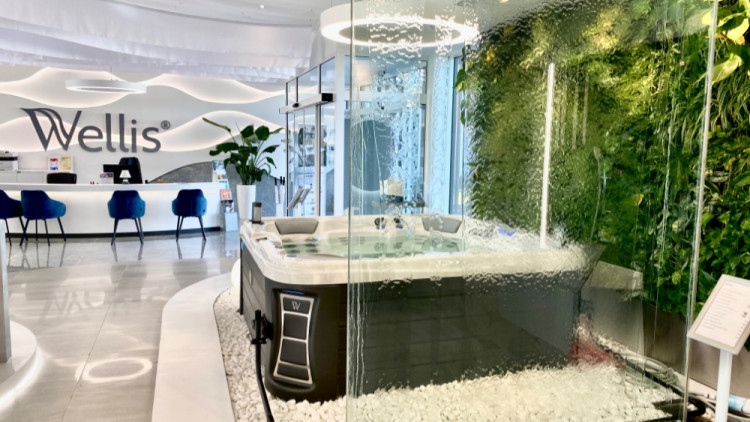 Wellis showroom
Solutions also for those who already have a spa
For them, Wellis proposes two efficiency solutions. One is Scandinavian insulation, which can be retrofitted into the company's hot tubs to cut average annual energy consumption by up to half. Another way to cut costs is to use heat pumps to heat the hot tubs, which can save up to 60-70 percent of the energy needed.
Although these figures are of course influenced by environmental factors such as the weather, on average they reflect the substantial energy savings that users can achieve.
Wellis spa
With the launch of one of the world's most energy-efficient hot tubs, Wellis has taken another giant step towards remaining one of the world's largest hot tub manufacturers, despite the negative effects of the energy crisis, which is hitting Europe particularly hard, and the ongoing war conflict, which is adding to the global economic difficulties.