With 27 years of experience USSPA has brought numerous inventions and patented solutions that has moved the spa industry forward such as the Automatic cover system ACS® awarded with Red Dot from Essen and Good Design.
Lounge iN, private spa with the Automatic cover system ACS®
After the success of this unique swim spa cover, USSPA is introducing it also for a spa. Lounge iN is the first private spa that can be opened and closed by simply pressing a button.Generous space and integrated steps ensure safe entry into the spa. Being supplied in a steel frame makes the entire installation process more efficient. This spa can easily be complemented with a USSPA swim spa. Made without compromises, such a swim spa will offer a comfortable swimming space as an alternative to a standard pool. Together they are offering a complex relax experience while technologies of both products remain independent.
The spas and swim spas are equipped with unique technologies that USSPA has developed for their specific products making them truly smart, with long-life span, minimal failure rates and easy service. Low energy consumption is ensured by a complex insulation system.
USSPA is currently strengthening their export activities and expanding their dealer network. The company approaches each of the partners individually including tailor made trainings and support, prepared based on their needs. Every dealer has access to its own client web-zone where they can easily create and manage orders by using the spa configurator. The client web-zone provides a complete set of supporting materials and photos which can be used individually for dealer´s activities.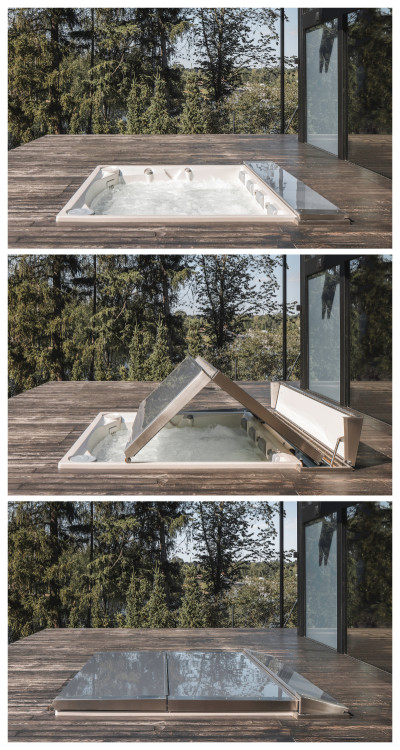 Lounge iN can be opened and closed by simply pressing a button