The AquaRite range of salt chlorinators from Hayward is evolving this year to offer even more features and an even more attractive design.

Véritable cerveau de la piscine
Ever since it was launched onto the market, this device has offered a smart management system for pool equipment and water treatment through one single automated unit: it combines a remote-control unit for the various pieces of equipment and a salt chlorinator including a transparent cell with Sugar Valley technology. The system has offered a wide range of features since the beginning, including pH, redox, free chlorine, conductivity and temperature monitoring, and various safety inlets and control outlets.
Among its many advantages, it offers total remote control so the user can manage the water treatment for their pool or water park (if they are a maintenance professional) from a distance, including pH and ORP (redox) levels and regulation, lighting and alerts, should there be any anomalies. They can also remotely manage automatic regulation of saltwater electrolysis chlorine production, including pH sensors, and view a log of all recorded values as well.
Not only does AquaRite® + provide reliable water treatment, it also offers automatic filtration control with either one speed or variable speeds, thanks to its 5 different operation modes: manual, automatic, clever, smart and heated (if it has a heat pump connected). And as an additional feature, for even greater convenience, the user can also purchase an optional WiFi/Ethernet module so they can control the system from their smartphone or tablet with the PoolWatch app.
But aside from all these advantages, one of the most important features of this system is that it can be adapted, meaning that users can add various different accessories according to their needs, while also updating it with the latest technologies. Accordingly, in 2021 the company announced that all of its pool equipment could now also be operated with voice control using Google Assistant or Alexa.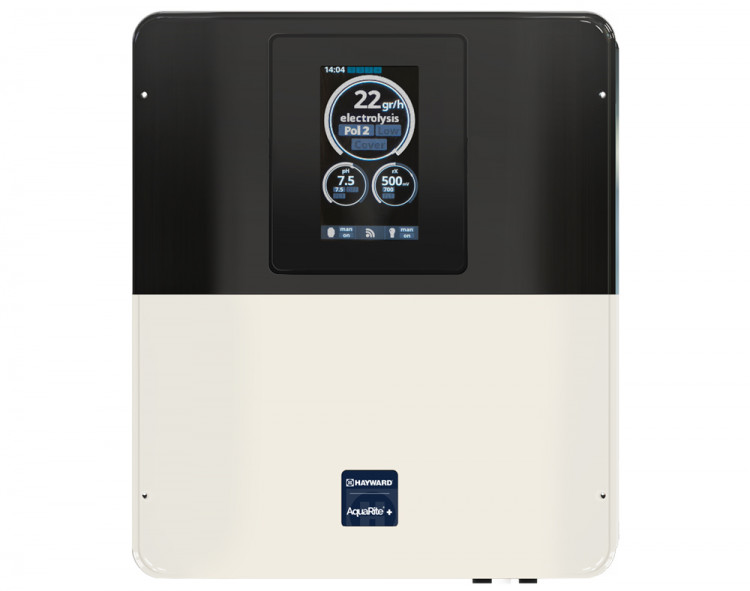 Aquarite+ NG
AquaRite® NG: design and functionality updates
All these features are still available in all AquaRite® systems, and this year Hayward is releasing a new model: AquaRite® NG (New Generation) with enhancements to both the design and features. It includes the following new additions:
Removable 4.3'' touchscreen
Plug-and-play connectors for installers
High performance for Cl readings (with potentiostatic sensor)
50W transformer included for LED projectors
Second inlet for liquid tank
Fully compatible with variable speed pumps, whether Hayward models or other brands
This system also offers the following new connectivity features:
Alerts visible on the main screen (Low, FL1, AL3)
Adjustable RGB LED programme
Access to pool log (30 days)
Configurable email alerts for all readings
Pool voice control with Google Assistant or Alexa.
With this system you can connect and control up to 7 devices of the same brand, such as heat pumps, lighting, UV lamps (230 V power supply), pool animations, waterfalls, etc.
For this range of chlorinators, Hayward offers a standard 3-year guarantee for the controller (4 years if purchased from a Totally Hayward store), with 8,000 hours of use for the cell.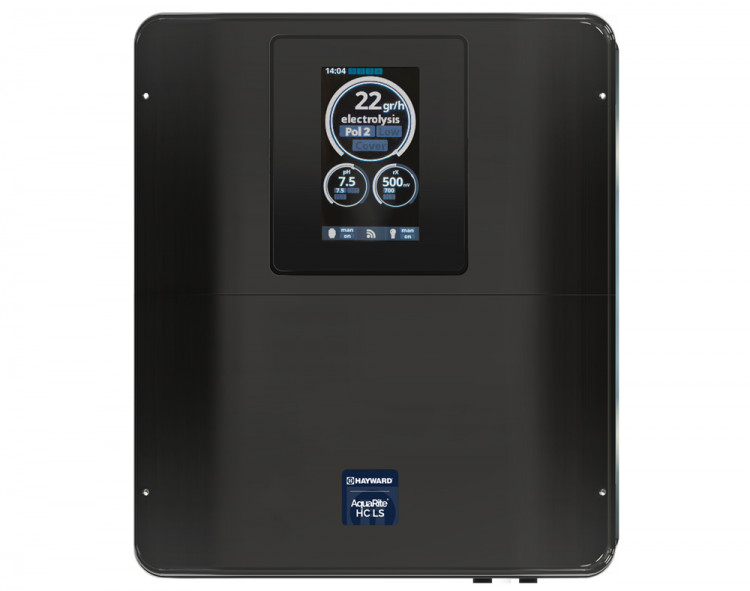 Aquarite HC LS NG