Energy-efficiency is very important nowadays. Recognising the importance of sustainability, Wellis proudly introduces its new hot tub family, the Life Line models, equiped with stylish designs and the latest technical innovations giving priority to energy efficiency.
The latest technical innovations for Life Line spas
The new range of Life Line spas by Wellis incorporates a series of technical innovations:
Energy-saving W-EC circulating pump
At the heart of the Wellis Life Line hot tubs lies the energy-saving W-EC circulating pump, with a power consumption of just 0.25 kW. This low-energy pump operates quietly while ensuring a long lifespan. Its environmentally friendly design not only reduces the carbon footprint but also contributes to cost savings over the long term.
WPS frame
The Life Line spas feature an innovative WPS frame, ensuring exceptional longevity for the spa cabinet's frame. The special polymer provides exceptional stability and life for the Spa's structural frame, offering longevity to the spa's structural integrity. This feature not only protects the investment but also enhances the overall durability of the hot tub.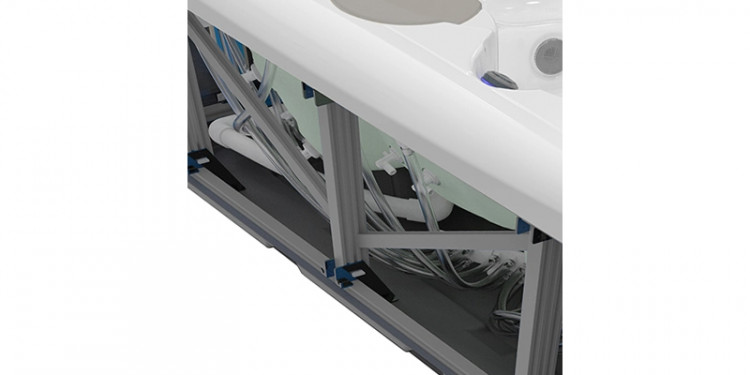 WPS frame
Ozmix(TM) system (Ozone + mixer)
The Ozmix(TM) system takes water purification to a new level. This system is 20% more efficient than traditional ozone-only systems. By eliminating a higher percentage of bacteria, it ensures a safer and cleaner hot tub experience for users.
New Scandinavian insulation
Wellis has incorporated a cutting-edge insulation system into the Life Line spas. 1.4 inches of POLYFOAM boards have been installed into the spa's holding frame gap-free for optimal insulation. Unlike traditional methods that involve fastening it to the outer casing, this innovative approach ensures superior heat retention, contributing to energy efficiency.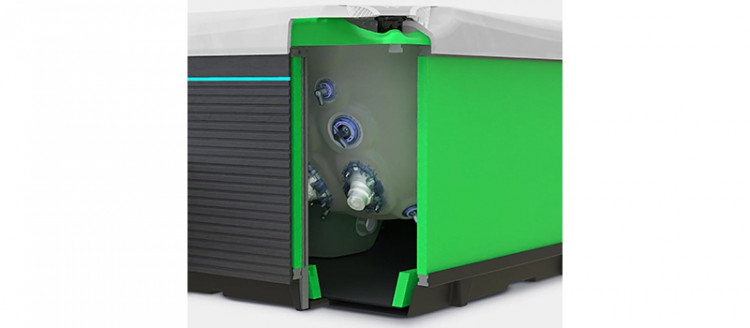 Scandinavian insulation
Smart-In Step System
The Life Line models are equipped with the Smart-In Step System, featuring a 3kW heat pump thant can be stowed under the step. Operating efficiently in temperatures ranging from 23°F to 104°F, this heat pump delivers a 70-75% heating energy saving. Moreover, the stairs includes storage compartments for added convenience, allowing users to charge their mobile phones and light around the steps (in option).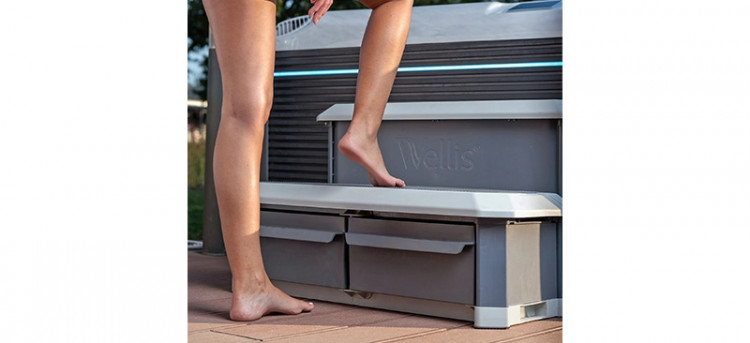 Smart-In Step System
With the Life Line hot tubs, Wellis has set a new standard for energy-efficient luxury. By integrating state-of-the-art technologies and design elements, these spas not only offer an exceptional wellness experience but also contribute to reducing the carbon footprint.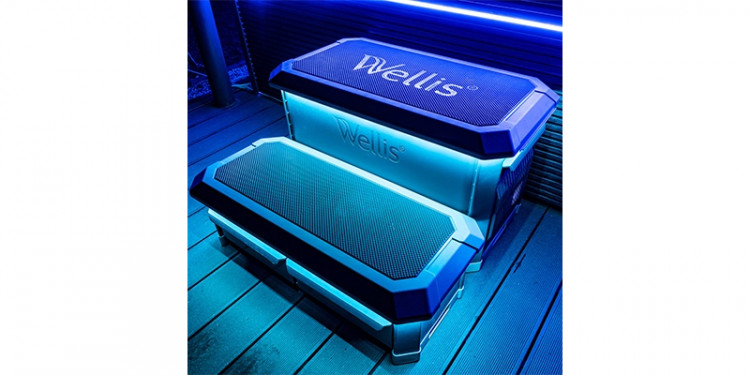 Life Line step lighting