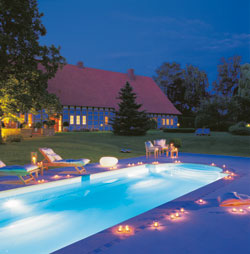 Riviera Rom model
Certikin International has signed an agreement with German manufacturer RivieraPool to distribute the company's one-piece pools exclusively in the UK.
Taking over from the Starline Monoblock, which Certikin has successfully sold in the UK for a number of years, the Riviera one-piece pool is said by sales director Richard Way to offer many features that are not included in other pre-fabricated pools.
"The Riviera is a highly flexible system, offering a plethora of step options, massage jets and counter-current devices and, as you would expect, an integrated automatic cover is available," he says. "All the pools comply to the highly regarded European TUV certification standard."
Each pool comes with a skimmer (including water leveller), two inlets, a floor drain and underwater light. The automatic pool cover comes with an in-pit motor system as standard, with key switch and bangkirai wood cover with support beam. The cover system can incorporate an optional spray cleaning system.
To support the new range, Certikin has appointed John Whiteside to head up the company's One-Piece Pools division. He can carry out site surveys to advise on the suitability for the Riviera pool, and Certikin can deliver to any UK location.
Pictured is the Riviera Rom model, which comes in 6.45m, 7.45m, 8.45m and 9.45m long versions – all 3.8m width.
For further information