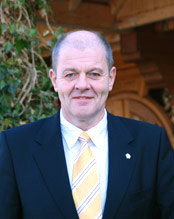 Ulrich Kromer

Interview with Ulrich Kromer, Managing Director of Messe Stuttgart, on the subject of Interbad, the swimming pool, sauna and spa trade fair being held in Stuttgart from 15th to 18th October 2008.
Karl-Heinz LINDERICH / EuroSpaPoolNews : Mr. Kromer, this is already the 21st Interbad. From this year on, it will be held exclusively in Stuttgart. Why was this decision taken?
Kromer: There were a number of reasons for this decision: On the one hand, the Deutsche Gesellschaft für das Badewesen decided to concentrate on one location so that the sector could present one face to the customer centrally. With the Swiss, Austrian and Italian markets close by, this also takes the growing internationalisation into account. On the other hand, the Stuttgart location has all the advantages for being the location of choice because Baden-Württemberg is the No. 1 baths region in Germany. There are many public baths, pools and health institutions to be found here. This is why everything pointed to Stuttgart as a permanent location for Interbad.
K-HL./ESPN: Stuttgart now has a number of new advantages to offer, such as the new exhibition grounds. How much has the space available for Interbad increased by?
Kromer: There are 9 months to go before the forthcoming Interbad 2008. We can already see that the number of bookings received so far is the highest ever. We have about 240 registrations, which means that even at this early stage, we have increased the floor space we reserve by about 50 % in comparison with the past. We are anticipating about 400 to 450 exhibitors, almost double the amount registered so far. Our expectation is that this will be the biggest and best Interbad ever held.
K-HL./ESPN: Will swimming pools be one of the main themes of Interbad once again?
Kromer: Interbad traditionally stands on the four pillars of swimming pools, saunas, spas and whirlpools. Swimming pools and all of the associated technical installations will again make up the largest area. This will cover the whole spectrum from small private pools via hotel pools all the way to large public installations.
K-HL./ESPN: You also have high expectations as far as visitor numbers are concerned. What is the reason for this?
Kromer: Firstly, there is a historical precedent as far as visitor numbers in Stuttgart are concerned whereby it was always around the 20,000 mark. Secondly, the public has shown great interest in the new exhibition grounds and we can therefore reckon with extra visitors. The third reason is that Interbad now has a permanent home in Stuttgart, a location whose appeal will be rewarded by the visitors, for example from Switzerland and Austria.
K-HL./ESPN: With 20,000 visitors, you're playing in a league with other major European trade fairs. How far are you affected by the competition, for example from the Lyon fair, which of course is being held very soon after Interbad?
Kromer: There is of course strong competition between fairs and exhibition locations, but that competition is in a quite different region of Europe. Lyon covers the southern European market in particular. We focus on central and eastern Europe. We also have a much wider offer than other fairs are able to show and are aimed at both private and public markets. We, along with our exhibitors, see no problem in the fact that one fair takes place shortly after the other. The markets are just too different as well.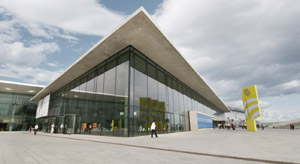 K-HL./ESPN: With the new exhibition grounds you now have very good infrastructure connections by virtue of being close to the airport, motorway and new hotels. Is this translating into more bookings by exhibitors?
Kromer: We have seen significant increases in growth in all the events held over the past few months. For exhibitors, these increases range from 20% up to as much as 80%, and visitor numbers have increased by up to 50%. On the one hand we are offering exhibitors the use of more space, and we are also seeing visitors' curiosity and the attraction of the new playing a part.
K-HL./ESPN: Interbad has a strong focus on the wellness area, more than any other fair in Europe. Will Interbad be specially marketed as a wellness fair once again?
Kromer: This topic will of course be a highlight at Interbad; it's part of the continuity of this fair. It will play an important role in the publicity for the fair. At Interbad itself, there will also be strong emphasis in this area, for example with the Spa Market Conference that runs in parallel with the fair, as well as through special shows where we will also be able to present this topic in substance.
K-HL./ESPN: What are your plans for publicity over the coming months until Interbad?
Kromer: In the next few months we will be in an intensive phase of attracting exhibitors so that we achieve the 400 to 450 exhibitors we are aiming for. At the same time, as far as marketing is concerned, the publicity to attract visitors will begin.
K-HL./ESPN: Many thanks for the interview, Mr. Kromer.