Resounding success at the 9th World Swimming Championships in Manchester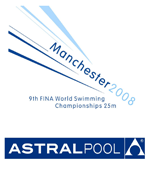 The 9th FINA 25 m World Swimming Championships, for which AstralPool is an official provider, have ended with an absolute success: 18 world records were set.
The Manchester Evening News Arena, known for being a large concert venue, housed the Championships, which took place from April 9 to 13. This year the Championships set a record for participation with 616 athletes coming from 116 countries.
18 world records, 40 Championship records and 85 continental records have contributed to the huge success obtained by AstralPool in these Championships: the two temporary pools installed in the facility.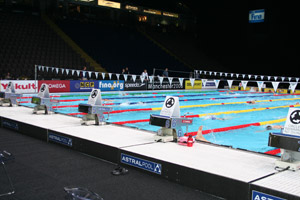 The multinational installed two main pools, the 25 x 25 x 2 m competition pool and the 25 x 15 x 2 m warm-up pool, in addition to the rest of the installations, such as the podium, the media area, the carpet and the audio and video equipment.
The installation of these pools in the arena specifically required not damaging the facilities.
For this, AstralPool applied
Skypool technology,
which uses separate hot-galvanised steel panels. This system, developed and certified exclusively by the company, allows for anchoring the pool without screwing even one screw into the floor of the arena.
For the 9th World Swimming Championships, there were 25,500 spectators present to see Ryan Lochte and Kirsty Coventry win the trophies for highest scoring male and female, and the United States team win the trophy for overall performance.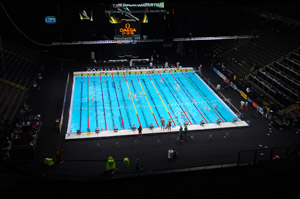 About AstralPool
AstralPool, which belongs to the Fluidra group, is a Spanish multi-national company that undertakes activities related to the conception, manufacturing and distribution of pool systems and components. The company is organised into various business units, each geared towards a pool and water-related sector: private pools, public pools, wellness and climate control. It also offers water treatment, irrigation and aquaculture solutions.
Since it was founded in 1969, AstralPool has become a brand of reference among sector professionals due to its reliability, expansive range of products and hands-on approach. The company currently distributes its products to more than 170 countries and is present in 30 countries with a total of 100 branches and sales offices.