In the future water, warmth and light will form an even stronger symbiosis in Koelnmesse's trade fair portfolio. This is because Aquanale — the International Trade fair for Sauna, Pool, Ambience — which will take place from 28th to 31st October 2009 in Cologne, will this year for the first time include a special show on the premium segment of artificial tanning. This means that the issues addressed by SOLARIA, which won't take place as a separate event this year, can be integrated into Aquanale.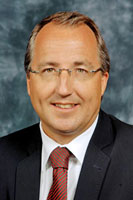 Oliver P. KUHRT
"
With these changes we aim to expand our presentation of the topic of wellness and all its related aspects
", says
Oliver P. KUHRT
, Executive Vice President at Koelnmesse. "
In the past it has been possible to identify great synergy effects between the topics of water, warmth and light. Now trade visitors can profit even more from the location and dates, which have been combined to present a range of products and services covering all aspects of the wellness market. And vice versa, we are also offering the industry a better way to enter new markets.
"
Dieter RANGOL
, Executive Director of the Association for Swimming Pools and Wellness (bsw) welcomes this segment expansion: "
This way Aquanale can reach completely new exhibitor and visitor target groups from the premium segment of wellness!
"
This year Aquanale is the only international swimming pool and sauna trade fair in Germany. Here, swimming pools, steam baths, saunas, pools/spas and products for the complete wellness segment will be presented. This year's expanded event will for the first time include the
new segment of Private SPA
. In this way, the International Trade fair for Sauna, Pool, Ambience is dedicating itself to the latest trend of the sector — luxury baths. The agreed expansion of Aquanale to cover the premium areas of Sunbeds and SPA Treatment corresponds to this development. The SPA Treatment segment will present wellness treatments for holistic bodily well-being. Here, the operators of hotels, Spas and tanning centres will find attractive themes to help them extend their range of products and services.
Aquanale will occupy the whole of Hall 10
The hall arrangements for Aquanale have been changed so that the synergies of water, warmth and light can be experienced properly. The new Sunbeds and SPA Treatment segments will be found in Hall 10.2 of Koelnmesse. The Saunas, Wellness and Private SPA segments will be moved from Hall 4, where they were originally to be held, to Hall 10.2. This means the whole trade fair will be presented in an ideal manner on over 40,000 m² of exhibition space in Halls 10.1 and 10.2.
Aquanale is staged every two years and has continued its incredible success story following its premiere in 2003. At the first event in 2003, a total of 162 companies from 18 countries took part on 15,000 m² — in 2005 these numbers had grown to 229 participating companies from 24 countries on 22,500 m². In 2007 there were a total of 287 exhibiting companies from 29 countries on 35,000 m². Aquanale has ensured its continued success by the addition of the new Sunbeds, Private SPA and SPA Treatment segments.