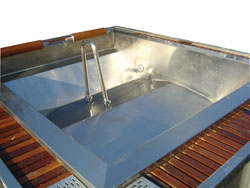 AstralPool recently installed two hydromassage hot tubs and a stainless steel pool at the O2 Centro Wellness in Alicante, a new 4,200-metre centre that opened in 2007.

The
O2 Centro Wellness
is the largest centre dedicated to overall well-being in Spain. The first centre opened its doors in Barcelona in 2002 and today has 9 centres throughout Spain. The centre has a complete water and pool area, in which AstralPool participated by supplying
the hot tubs and a stainless steel, 18 x 8 x 1.4 swimming pool, as well as all the material necessary for its filtration and treatment.
This is not the first time that AstralPool has collaborated with the O2 Centro Wellness, we have also supplied numerous units in other centres, such as those in Barcelona, Elche and Marbella, where we also provided the filtration and regulation material.

About Wellma range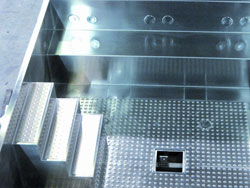 AstralPool's range of AISI 316 L stainless steel hot tubs have a Finnish style pool overflow and an optional hydromassage system which uses air, water or combined air and water together.
Manufactured from steel alloy, these hot tubs have exceptional anti-corrosion qualities, and they lightness make them ideal elements for limited load bearing spaces. AstralPool hot tubs are not affected by change in temperature. The quality of the welding, 100% free from any potentially porous element prevents the possibility of dirt sticking to the surface. All possible leakage is also limited to the welded joints which are closely examined before the pool is filled for the first time.


Stainless steel, a revolutionary material
Stainless steel is a revolutionary material that provides sobriety and maximum elegance to exclusive facilities. Its physical-mechanical characteristics make it an ideal material for construction in the most adverse conditions. The alloyed steel is exceptional, inalterable and the finishing layer protects the metal against corrosive materials.