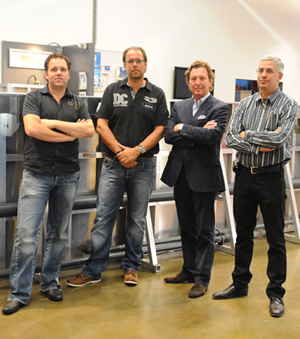 Roy Peeters, Leon Kersten,
Bart Van de Kamp and Alain Servais
Dubeco Holding bvba, parent company of LMP Poolparts, has just completed the acquisition of majority shares in Pomaz. This means that Dubeco Holding, in collaboration with the second shareholder in Pomaz, Roy Peeters, and the Managing Director of LMP Poolparts, Alain Servais, will be controlling the destinies of both companies.
Bart Van de Kamp of the holding company, Dubeco S.A., thus becomes the owner of 70% of the shares of the company. This is the coming together of two firms that are almost identical, specializing in pool material and accessories.
This combination will allow both companies to grow stronger, in terms of purchasing and service, customer service, inventory and expertise.
The combination of their forces will allow both LMP Poolparts and Pomaz to develop and further extend their product lines, and service to swimming pool specialists.