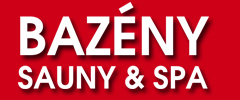 As in previous 9 years, the specialized trade fair BAZÉNY, SAUNY & SPA 2014, tailored mainly for investors, manufacturers and operators of public indoor and outdoor pools, saunas, wellness centers and related branches, will be organized in PVA Expo Letňany, this year from September 16 – 20, 2014.

The key theme of the trade fair will be sauna and wellness areas, both being considered and reported highly interesting for visitors. The trade fair visitors may look forward to visiting (and also enjoying themselves) a sauna island with Finnish sauna or having the possibility to consult with the experts prepared to talk about different types of sauna baths or basic sauna bathing principles. The high professional quality of the trade fair is guaranteed also by the auspices granted by the biggest professional associations in the branch on the Czech market – ABAS ČR, APR and ČAW. The trade fair will be accompanied by the conference with the theme: Experiences with the construction and operation of wellness centers and saunas.

Traditionally, the trade fair will run simultaneously with renowned autumn trade fairs For Arch, For Wood, For Therm, For Waste & Water and FS Days.