interbad 2014, which will be held at the Stuttgart Trade Fair Centre from 21 to 24 October 2014, will this year provide the setting for the first European Pool Summit (EPS) which will be attended by swimming pool experts from all over Europe.
The European Pool Summit is being organised by the German Association for the Recreational and Medicinal Bath Industry (DGfdB) which stages interbad every two years in cooperation with Messe Stuttgart.

Latest findings and creative innovations

In addition to the innovations presented by exhibitors from home and abroad, the Congress events and the accompanying programme are key elements in the interbad concept. This year, the 65th Congress for Pool and Bath Technology will be divided into the specialised conferences entitled "Public baths", "Saunas", "Physiotherapy", "Swimming pool personnel", "Private swimming pools" and "Special events".
The Congress will contain practical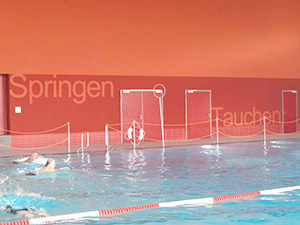 knowledge for decision-makers and managers from municipal swimming pools, for proprietors and managers of privately run pools, for hotels, saunas and spas, for physiotherapists, as well as for swimming pool manufacturers and specialist swimming pool retailers.
The topics will include the latest research results on pool water treatment, for example from the joint European project " Intellipool", developments in bath construction regulations, recruitment strategies for swimming pool trainees, energy efficiency in sauna construction, the importance of wellness facilities in pools and saunas, the refurbishment of private swimming pools, and many other topics besides.
During the Congress, the German Association for the Recreational and Medicinal Bath Industry will also announce the winners of the "Public Value Award for Public Baths", which it is presenting this year for the third time in order to highlight the importance of social value-added which public baths create.

Spa business verlag will hold podium discussions and informative talks during the 5th Spa Market Conference on the first two days of interbad 2014.
The topic groups:
● "360° degrees: examination of excellent spas",
● "Spa Business International & Spa Specialists",
● "Spa tools: tools and methods for the spa industry",
● "Gazing into the crystal ball: planning the future",
● "Inside the cabin: behind the scenes"
● and "Marketing in 2014: guests, stories, wishes"
They will provide in-depth insights into special spa concepts, will show new methods and strategies for the spa business, will examine key aspects such as employer attractiveness or fitness in spas, will describe demographic change and its influences on future customers, will provide information on sustainable personnel management in spas and will analyse the mega-trend of land lust from marketing and media aspects.
During interbad 2014 spa business verlag will also present for the third time the Spa Business Award to excellent spas for outstanding dedication and great innovative strength in the following categories: thermal baths/wellness, beauty/wellness, health/wellness, cuisine/wellness, day spas, superior spa destinations, best spa therapist, and organic/regional/fair trade food and wellness.


Diverse range of exhibitors and visitors
350 exhibitors have already registered, including 10% more new suppliers.
Around 35% of registrations come from abroad, including smaller suppliers from the United Kingdom, the Czech Republic and Finland, who are pooling their products and services on joint stands.

"The original and most important focal point of interbad is the public and private swimming pool sector which we have been able to very successfully combine over the years with the closely related aspects of saunas and spas. They also make a strong impact on the trade fair image of interbad. Due to its comprehensive exhibition programme, interbad is aimed at many different target groups," said Andreas Wiesinger, Divisional Director at Messe Stuttgart.
Decision-makers from public and private baths, health resort facilities, wellness complexes, swimming pool manufacturers and retailers, managers from the hotel industry, architects, planners and private builders come to interbad to obtain information on different aspects.