As a follow-up to the operation carried out last July by Cedrik MAYER-KLENK's group, the FIJA group, headed by Marc MAUPAS, joined the round table talks with AQUALUX.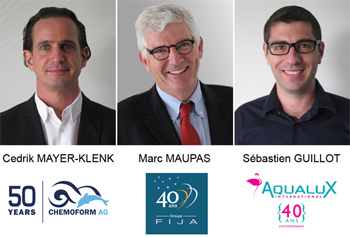 Sébastien GUILLOT, the Chairman of AQUALUX, says: "Welcoming FIJA into our midst corresponds to our strategic commitment to implement effective and sustainable partnerships in Research and Development, Industrialization and Logistics, to better meet the expectations of today's customers and anticipate those of tomorrow".

For Cedrik MAYER-KLENK and Marc MAUPAS this agreement concretises "the cooperative work already well established between our respective groups in the European market".

Present in the swimming pool market for more than 40 years, these companies are now preparing to build together attractive solutions for all their professional customers.
Join us in November at the Salon de Lyon on stands 5C37, 4E48 and 4C128.
Plus d'informations :
www.aqualux.com / www.chemoform.com / www.del-piscine.fr / www.cecpiscine.com