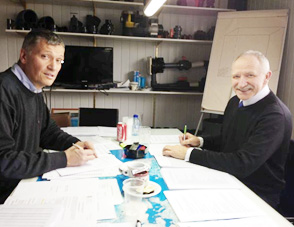 Chris den Hartog (On the left) and Eddy Albrecht
Pollet Pool Group and Duktrad International announce that they have signed an agreement by which Duktrad Marketing transfers on February 1st, 2015 all distribution activities of swimming pool products in Belgium and Luxemburg to the Pollet Pool Group.
As such, Pollet Pool Group will be Bayrol's main distributor in Belgium and will add the full BADU pumps and counter swim units manufactured by Speck-Pumpen of Gemany to it's already impressive range.

Eddy Albrecht , CEO of the Pollet Pool Group and Chris den Hartog, CEO of Duktrad International jointly declare :

« We have negotiated a win-win formula by which the Pollet Pool Group adds a geographically strategic distribution location east of Brussels on their home market with experienced personnel and by which Duktrad International acquires an important new customer for the Speck range in Belgium and Great Britain ».
Press Release 2/02/2015