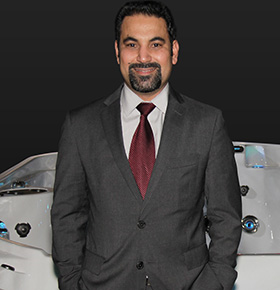 Jatinder Sidhu
Coast Spas' Executive
Vice President of Operations
Coast Spas' Executive Vice President of Operations, Jatinder Sidhu (JT), has been appointed to the US Technical Advisory Group (USTAG for IEC/TC61) representing the Hot Tub Industry Globally in overseeing standards for consumer goods, specifically relating to Hot Tubs and Spas.
JT and Coast Spas have a long history of in-depth involvement in ensuring that the Hot Tub and Swim Spa industry are held to a high standard in their production of consumer goods.
Coast Spas has a representative committee member in the following organizations:

CEN (European Committee for Standardization), DIN (Deutsches Institut für Normung/or German Institute of Standardization), BSI (British Standards Institute), CSA (Canadian Standards Association), APSP-IHTA (Association of Pool and Spa Professionals – International Hot Tub Association), NSF (National Swimming Pool Foundation – Salt Water Task Group) ANSI (American National Standards Institute) - APSP 14 and now the US Technical Advisory Group (USTAG) for IEC/TC61.

Due to his extensive involvement in these organization and a lot of experience / knowledge, Coast Spas' Jatinder Sidhu was selected to this leadership position that will advocate high standards for consumer safety for all brands of Hot Tubs and Swim Spas worldwide. Endorsed by the APSP, the commitment of Coast Spas and Jatinder is to raise the bar for manufacturing standards and ensure the protection of consumers around the globe.