The World Aquatic Health™ Conference (WAHC) will provide unique opportunities for industry leaders to network and learn. The 15th Annual WAHC will be hosted October 10-12, 2018, at the Charleston Marriott in Charleston, South Carolina. New this year, the WAHC will be broadcast to six additional WAHCity locations in the greater areas of Boston, Colorado Springs, Dallas, Los Angeles, Minneapolis, and Niagara Falls.
The WAHC provides industry leaders, such as health officials, researchers, manufacturers, operators, managers, and builders/designers, the chance to help shape the future through aquatics.
Hosted by the National Swimming Pool Foundation (NSPF), WAHC 2018 welcomes popular aquatic Keynote Speakers Eadric Bressel and Feras Irikat. In addition to the keynote presentation, Irikat will be engaged in the new Design & Engineering track offered during the conference.

WAHC 2018 features new offerings for attendees. The Elements of WAHC track includes a variety of the trending topics and popular speakers from previous WAHCs. Session topics of Elements of WAHCwill include Drowning Prevention, Improving Water & Air Quality, Preventing Biofilms, Applying Filtration Science, and Facility Management. Elements of WAHC, along with keynote addresses, will be the featured track at WAHCity locations.

For those attending the WAHC in Charleston, WAHC tracks will range in subject from old favorites to new topics, including Advanced Service Concepts, Design & Engineering, Elements of WAHC, Facility Management & Design, Improving Water & Air Quality, and Increasing Fun While Reducing Risk.

In addition to the nearly 50 innovative educational sessions during the conference, WAHC 2018 offers a variety of special events. Guests may choose to attend the Charleston-Based Insider's Tour, Environmental Health Symposium, USA Swimming Regional Build A Pool Conference, CPO® Certification Course or Advanced Service Technician™ Course.

WAHCity guests will experience the hospitality of Great Wolf Lodge resorts. During the conference, attendees will enjoy industry table tops, the closing reception, networking opportunities, and discounted hotel rates. Additional WAHCity benefits include the convenience of a location near you, reduced pricing, a waterpark facility tour, and four waterpark passes per room night.
Noteworthy Pre- and Post-Conference Events at the WAHC in Charleston

Pre-Conference Events

2018 Welcome Reception - Wednesday, October 10, 6:30–9:00 pm

This perfect waterfront location, the South Carolina Aquarium, has beautiful views of Charleston Harbor from the open-air terrace. Inside, explore two floors of the aquarium's exhibits, including a 385,000-gallon Great Ocean Tank where you can see sharks, a 220-pound sea turtle, and much more. While enjoying the aquarium and networking with colleagues, heavy hors d'oeuvres and drinks will be served.

Advanced Service Technician™ Course - Wednesday, October 10, 8:00 am–5:00 pm

Acquire the AST® Certification that your customers respect AND gain a competitive advantage for your service company. Visit the wahc.org to purchase the show special and complete the online modules before attending this one-day Classroom Session.

Certified Pool/Spa Operator® (CPO®) Certification Course - Wednesday, October 10, 8:00 am–5:00 pm

Earn the CPO® Certification that is recognized across the world as the premier program for pool and spa facility operators. Visit the wahc.org to purchase the show special.
Environmental Health Leader Symposium - Wednesday, October 10th 10:00 am–2:00 pm

Environmental Health Officials are invited to a closed Symposium with round table lunch to discuss relevant trends and best practices. EH Officials not attending the WAHC are invited to purchase a guest ticket for only $25 to attend the Symposium and lunch. To register or for more information, contact Susan Wichmann.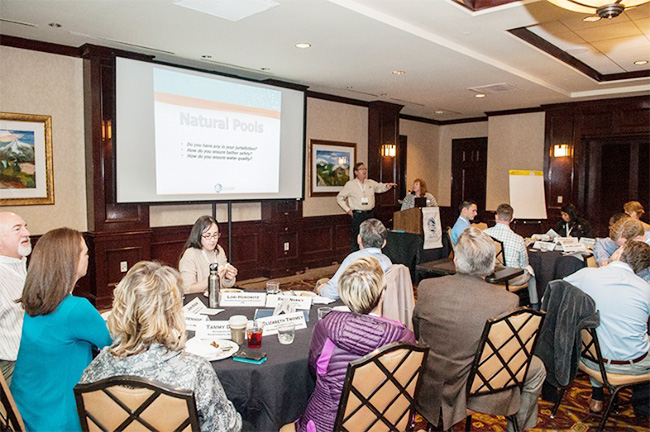 Insider's Tour - Wednesday, October 10, 9:00 am–2:00 pm

Interested guests will discover local and unique aquatic facilities, as well as best practices for operation and sustainability within Charleston. This must-see event will be an additional $65 and includes transportation and lunch.
Post Conference Events

Farewell Function - Friday, October 12, 3:20–4:30 pm

NSPF invites attendees to stick around after the educational sessions on Friday for one last networking opportunity. Enjoy drinks and prizes while exchanging goodbyes and handshakes with friends and new contacts.
USA Swimming Regional Build A Pool Conference - Saturday, October 13, 8:00 am–5:00 pm & Sunday, October 14, 8:00 am–4:30 pm

A Regional Build A Pool Conference will take place the weekend after the WAHC. During this two-day conference, attendees can expect to discuss design considerations with builders, facility directors, and design companies.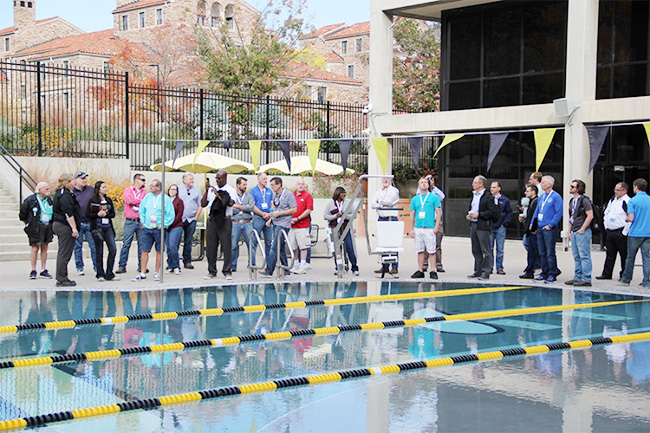 Conference Sponsors/Tabletops

The lead sponsors for WAHC 2018 are Pentair, Waterco USA, manufacturer of high quality pumps, filtration systems, solar pool heating, and chemicals; facility designer and partner for the Facility Manager App, Counsilman-Hunsaker; Hach Company, manufacturer of instruments and reagents for water testing and water quality; highest purity sale manufacturer, AQUASALT; Wapotec, leaders in pool water treatment all over the world Aquatics International; AQUA; Pool & Spa Marketing; Pool & Spa News; and SPLASH!. Sponsorship opportunities are still available; please email conference@nspf.org for more information.

Poster Presentations

Those interested in sharing recent aquatic knowledge and findings with attendees may do so through poster presentations. Information displayed varies greatly based on the presenters' focus of research and knowledge within the industry. Poster presenters will reside in a prime location, both for visibility and for convenient networking with fellow attendees. Poster submissions are accepted until August 27.
Registration

Registration for WAHC includes heavy hors d'oeuvres at the Welcome Reception and breakfast and lunch on both Thursday and Friday. Early registration is just $445 when you register by May 31. The price will increase to $495 on June 1, and again to $595 on August 1. Visit www.theWAHC.org to register today!

Hotel and Travel

Discounted hotel rooms at the Charleston Marriott can be reserved for a rate of $174 per night, plus taxes. This rate is available through Thursday, September 13, 2018, but will sell out early. Attendees are encouraged to reserve a room online or call (843) 723-3000 and ask for the World Aquatic Health Conference rate. Guests are charged upon check-in for reservations. Contact conference@nspf.org for information on government rate rooms, if applicable.
Press Release