Myrtha Pools has been part of the requalification of the renowned Hotel La Palma, a 4 star hotel located in an extremely central area of Stresa, on one of the most beautiful and trendy lakefronts of the Maggiore lake.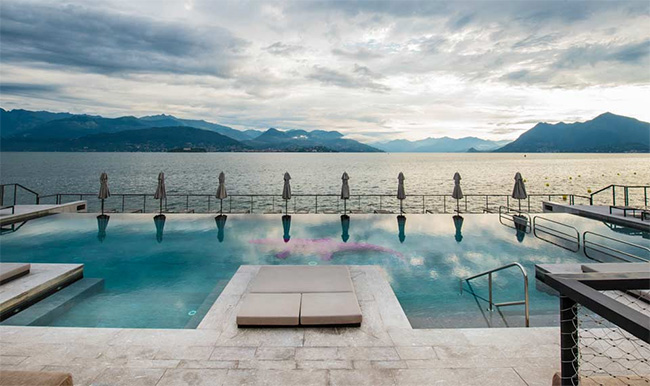 The hotel was recently renovated to offer its guests cosy and refined areas, and to do so it also added to its offer a complete makeover of the pre-existing lakefront pool.

The new pool
Myrta pools added value entirely by modifying the pool both in shape and function, creating an enchanting scenography by means of an elegant design where guests can regenerate body and mind while admiring the wonderful views of the lake and the Borromeo islands.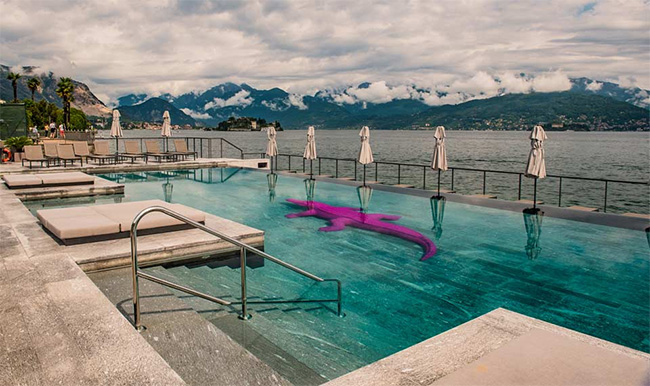 The new water area was designed by the architectural firm Cipiuelle in Florence and was redesigned with a rectangular shape, made dynamic by the presence of small peninsulas where it is possible to relax on comfortable giant cushions.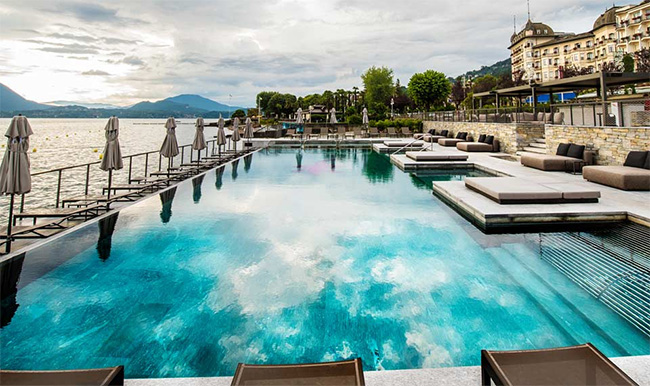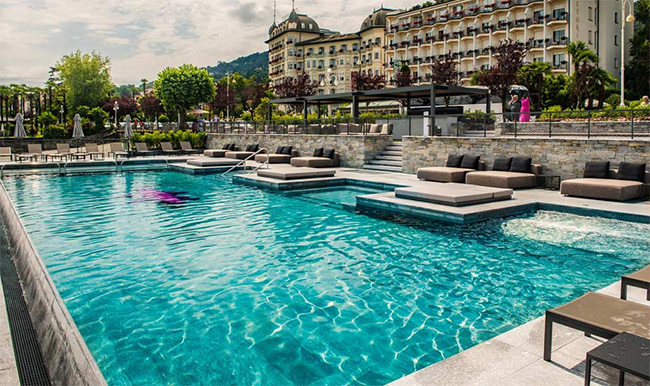 The pool flaunts an enchanting vanishing edge in the direction of the lake, perfect for this valuable context where one's view of the horizon seems to blend water and sky.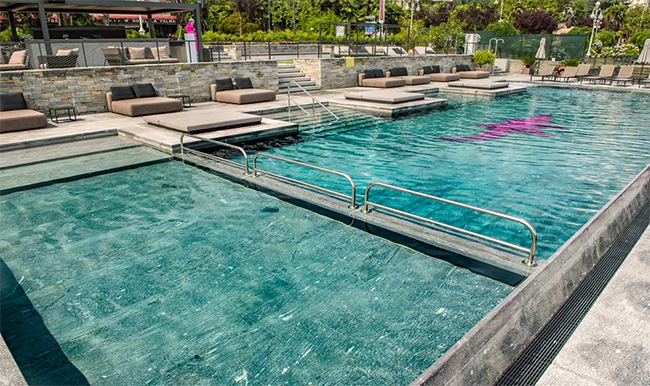 To maximise the wellness of its guests the pool includes four different areas, each one designed with a specific function: an elegant main entrance flight of steps, a ramp entrance to the kid's area, an area with benches and hydromassage with air/water vents and a soothing relax area with hydromassage water loungers.

Flooding proof
Following the renewal, the structure is now installed on a new building slab, with a perimetric cavedium that can be inspected, while the pool floor remains raised of 1 metre to limit the flooding of the pool from the lake's waters. Even the technical rooms have been installed in a raised position to avoid damages caused by water: These adjustments have been carefully designed by Myrtha Pools to guarantee the highest quality standards of the intervention.
Myrtha's technology used in this project was ideal for this area and it was possible to solve all installation challenges following the necessary building requirements and required aesthetic needs.

Pool characteristics :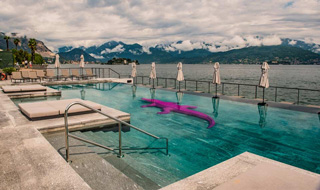 • Dimensions 23.85 x 9.00 m
• Depth 0.50 – 1.35 m
• Myrtha technology
• Structural Cascade infinity pool
• Finishing in "beola" stone on the floor, the waterfall and on the upper part of the non-infinity pool sides.
• Lit by linear RGB LEDs on the sides without waterfall embedded in the finishing stone.
• Lit by linear RGB LEDs linear on the waterfall side within the overflow channels.
• N.1 stainless-steel lounger area with 4 stations, with brushed stainless-steel loungers with air input through stainless-steel plates.
• N.1 hydromassage area zone on 4 stations, each one with 1 massage vents for the back and feet.
• N.1 access steps to the adult area
• N.1 access steps to the baby area
• Filtration norm UNI10637-2016
• Prominent disinfection plant, with on-site chlorine production.