The Professione Acqua Convegno d'Autunno is the big event of its kind in Italy for builders, designers, suppliers and managers of swimming pools and health & fitness centres. Now taking place for the fifth time, it continues to grow.
Last year more than 300 people were present, all of whom were professional members of the trade. It is a great chance to meet swimming pool builders, as underlined by the fact that there has been a 20% increase in the number of companies presenting products in 2018.
The event lasts just two days but there are numerous opportunities to meet fellow participants during that time (breaks, lunches, free coffee points, etc.), so it offers the perfect blend of low investment and exceptional potential to make new business contacts and consolidate existing ties. In addition to presenting the latest additions to their ranges at desks that are deliberately all kept very similar to each other, sponsor companies have the chance to run workshops in a specially designated room.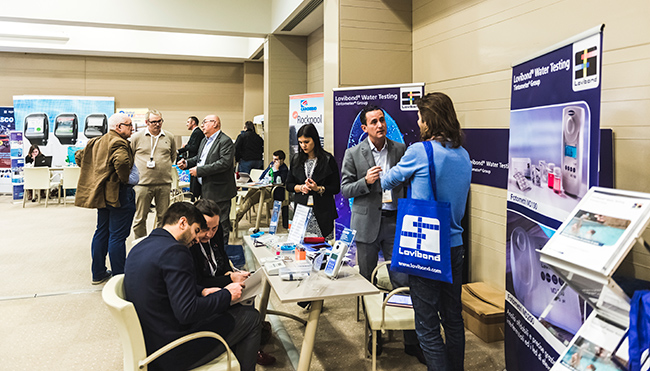 The workshop schedule and the names and businesses of sponsors will be given the same prominence in advertising and promotional materials as the convention itself. Sponsors can also offer their guests free lunches in the restaurant of the hotel hosting the convention.
Sponsors at the Convegno d'Autunno are more than just "exhibitors". They play an active part in the event and according to the organizers they will have an even bigger role this year than in the past.
In addition to the traditional three conference halls, in 2018 there will be a fourth one for architects. More than 40 topics will be covered altogether and as always, they will all be of a highly technical and scientific nature!

If you have never been to the Professione Acqua Convegno d'Autunno, come to Gubbio in the heart of Italy on 27 and 28 November!