Global water treatment and pool equipment manufacturer Waterco Limited has announced its acquisition of Davey Water Products, , a subsidiary of GUD Holdings Limited, cementing its position as the largest Australian-owned and operated entity in the water industry. The transaction is expected to be completed on September 1, 2023, with a sale price of $64.9 million.
Waterco Ltd. becomes the largest Australian-owned and operated entity in the water industry
Established in 1981 with a single pool pump store in Sydney, Australia, Waterco has since become a global brand recognised for designing and manufacturing filtration and sanitisation innovations for the swimming pool, spa, aquaculture, and water purification sectors. The Australian public listed company has been established for over 30 years with a global presence and branches in the UK, Australia, Malaysia, China, United States, Canada and New Zealand.
With a combined 131-year history in the multi-billion-dollar Global Water Industry, the acquisition enables Waterco to expand its reach while providing increased market presence and growth opportunities for shareholders.
"The acquisition aligns with Waterco's long-term strategic vision of becoming a global leader in the water technology industry," says Waterco Founder, Executive Chairman and Chief Executive Officer, Soon Sinn Goh. "It positions the company for sustainable growth and enables it to take advantage of emerging opportunities in the market."
The acquisition brings together complementary strengths and capabilities that will benefit Waterco's customers across various sectors. "One outcome of the acquisition will be increased share of global water markets across pool and spa, water transfer and water treatment categories," Goh explains. Growth opportunities include leveraging geographical strengths across developing markets in Europe, USA, Africa, and the Middle East. "Waterco's extensive distribution into North America and the European Union will further enhance Davey's pre-existing reach in Europe. Another benefit is that both companies will have access to each other's customer bases as products are complementary."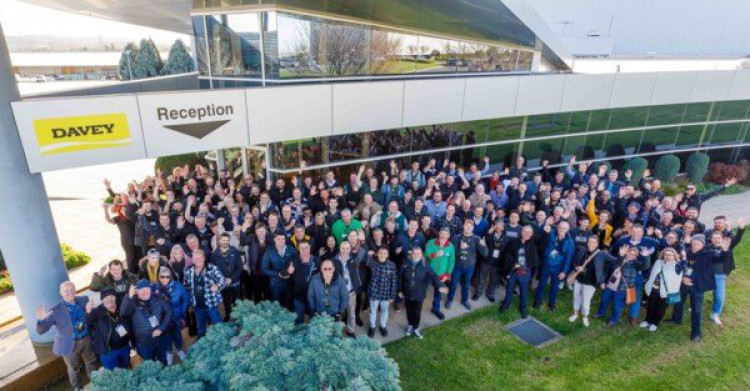 The Davey compagny © Waterco Ltd