Come and meet the EuroSpaPoolNews.com team at the AQUANALE Exhibition - Hall 10.1 Booth A029
from 26 to 29 October!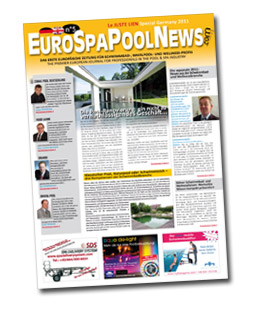 Come and take at our stand
our last "Special Germany" edition
and if you don"t, write to us,
we will send them to you
EuroSpaPoolNews has continued its step forward on all fronts with in particular its new website www.piscinespa.com that is oriented towards the end customer.
Resolutely turned towards digital technology, the World Wide Web is becoming more and more a dynamic and easily-accessible tool. Increasingly simple and interactive - that is the future of the Internet and its players.
More than just online magazines, we are now building a true community with our whole network. Within this community, we discuss, we share, we communicate ... we live! Facebook, Twitter, Dailymotion, Youtube, blogs: all of them help to increase visibility and allow us to convey and broadcast all your new products, news and updates as widely as possible.

Today, to survive on the Internet,
it is absolutely necessary to create one's own network.
EuroSpaPoolNews.com & PiscineSpa.com place at your disposal a network, a family, a community, that draw together and unite all Pool and Spa professionals the world over. More than 1700 friends on Facebook - join our community and make it yours.


In the meanwhile, come and meet us at Piscina BCN:

Hall 10.1 - Stand A029
Marie Lalanne,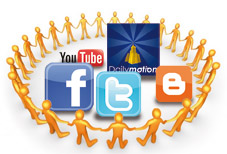 Facebook : www.facebook.com/IMC.eurospapoolnews
Twitter : http://twitter.com/eurospapoolnews
Dailymotion : www.dailymotion.com/eurospapoolnews
Youtube : www.youtube.com/Eurospapoolnews
Blog : http://piscine-et-spa.blogspot.com