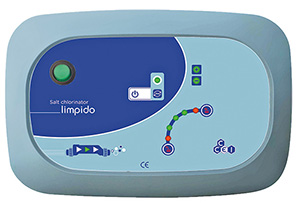 Limpido
The Limpido automatic chlorinator is one of the bestsellers of the CCEI chlorinator range, with several thousands sold every year.
Attentive to its partners, the manufacturer has enhanced its chlorinator by adding functionalities to make it even more efficient and always user-friendly.
The new generation Limpido is equipped with a SHOCK function that is activated during 24 hours, allowing it to temporarily increase its production of chlorine.
This function proves very useful at the beginning of the season when pool service is restored, often requiring a shock treatment of the water.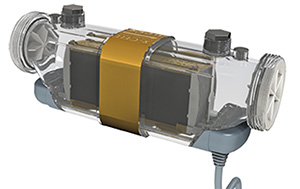 X-CELL
Additionally, the device is fitted with the new X-CELL manufactured by CCEI.
This highly efficient cell is scalable, thanks to the space provided for a pH+ or pH- injector.
Also, for even more user-friendliness, the Limpido has seen its interface evolve with, in particular, several indicator lights visible on the front.
Meant for controlling its functions, these indicators show the flow detected, lack or excess of salt, optimum production, etc.
During start-up, the chlorinator automatically adjusts chlorine production according to the salt level and water conductivity.
To activate the SHOCK program, the user only needs to press a single button.

For the new season, the chlorinator is presented with even more functionalities and ease of use.