The ALPHA iQTM pool robots range : a convergence of the pool cleaning technologies

Three models
The Zodiac® brand launches a range of ALPHA iQTM pool robots this year, a convergence of the pool cleaning expert's technologies. The three models - RA 6300 iQTM, RA 6500 iQTM and RA 6700 iQTM - offer maxi performance and ease of use. The best equipped model of the three (RA 6700 iQTM) is able to clean the floors, walls and waterlines of pools of up to 15 x 7 m (21 m cable) and incorporates the following technologies:
4-wheel drive.
Patented, powerful and steady cyclonic suction: no clogging of the filter.
Very fine filtration (60µ).
Sensor Nav SystemTM for intelligent navigation: the robot scans the dimensions of the pool to optimise its trajectory, and measures the water temperature.
Wall climb management and stabilisation along the water line using the onboard pressure sensor.
Multiple cycles, manual setting of time possible: Quick (floor), Smart (intelligent adjustment to the floor, walls and waterline of the pool), Ultra (intensive), waterline only, spot cleaning.
Connected robot allowing control with the iAquaLinkTM Control mobile app, available for iOS 10 and Android 5.1.
Lift System for lifting the robot out of the water (by draining the water to make it 20% less heavy).
Full filter indicator and view of debris level through the transparent filter access window.

Transport caddy / remote control.
7-day programming.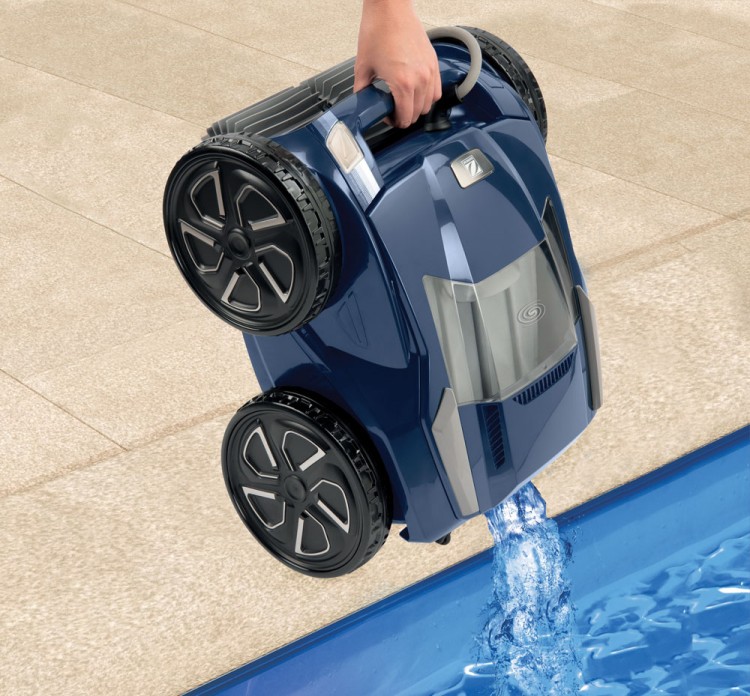 Connects to the iAquaLinkTM Control app
These three models come with a 3-year guarantee, plus an additional 1 year in case it is paired with the iAquaLinkTM Control app within 6 months of purchasing the robot.