FITT B-Active Flex and FITT B-Active Rigid are the top of the range products by FITT for the swimming pool sector. Made by implementing patented technologies, these 2 pipes are fully Made in Italy and offer a double level of security thanks to the tenyear warranty and insurance cover.
FITT B-Active Flex and FITT B-Active Rigid
FITT B-Active Flex, the PVC spiral hose
FITT B-Active Flex is the PVC spiral hose, now even more resistant to mechanical stress thanks to the EVO TECH innovation. This technology further reinforces the film that covers the rigid spiral (Spiral Protection Barrier technology) and makes the hose 6 times more resistant to cracking than other hoses, on the basis of the EN ISO 3994 standard. The hose is therefore protected and maintains its high flexibility and narrow bending radius characteristics.
This hose, with internal anti-chlorine protective film (Chlorine Defence System patent) and rigid PVC spiral for protection against crushing (D-Shape patent), is ideal for embedded pools and spas.
FITT B-Active Rigid, PVC-A pipe
FITT B-Active Rigid is the PVC-A pipe that meets the test methods applied by the EN ISO 1452 standard. It has a 3-layer structure that is resistant to corrosion and impenetrable by soil pollutants, which facilitates installation and reduces accidental transport and handling damage.
Made implementing the Shock Wave technology, this pipe resists impacts even at low temperatures (down to -10° C), according to the EN ISO 3127 and EN ISO 11173 methods.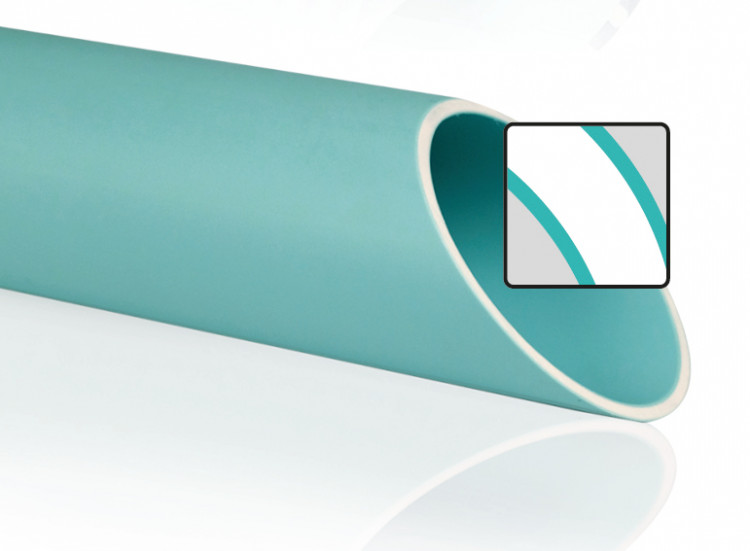 FITT B-Active Rigid