To assist professionals in the coming season, when environmental issues will assume an increasingly important role, Polytropic has developed a complete range of reliable swimming pool heat pumps and dehumidifiers, designed according to a global sustainable approach. To meet current consumer expectations, the designer-manufacturer can rely on its innovative solutions, as well as its customer service.
Innovations part of a sustainable approach
The company is presenting several preventive maintenance and connectivity solutions in Lyon, designed to meet the energy challenges of the swimming pool market. They are also very proud to be able to label all of their Full Inverter heat pumps with an «A» energy class rating, in accordance with the European standard for the evaluation of the environmental performance efficiency of the use of domestic swimming pools (NF EN 17645). As a major player in the swimming pool market and a heat pump specialist, Polytropic has been actively involved with the FPP in steering the «heating» committee in the development of this standard. This commitment to respecting the environment has already been implemented for several years in its product developments.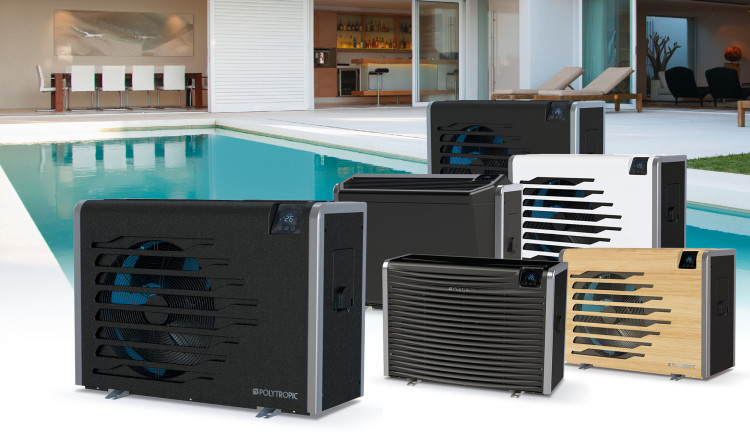 MORPHEO heat pumps
At its stand, professionals can discover several new products in its heat pump ranges, alongside two innovative solutions (featured in this issue):
CARE290, the smart heat pump, with R290, Full Inverter, compatible with the new PolySolar Energy System (photovoltaic panel kit). See the complete article in the New products section.
PolySolar Energy System, the hybrid solution, combining heat pump and photovoltaic panel kit. See the complete article in the New products section.
STEPIO, the SPA heat pump to be fitted into the access steps so as to combine technological excellence and energy cost control (patented and exclusive concept).
The redesigned PAC Master-Inverter, one of Polytropic's bestsellers, featuring a new stylish housing, a 4G function included with PolyConnect inside.
The Morpheo heat pump, with a customizable body and new front panels (in addition to the optional FSC Wood front panel): Discreet - with ABS housing and louvres, and Vertical - with vertical airflow and anthracite ABS housing.
The RAK Inverter, designed for public swimming pools, now includes the 4G function, handy in case the wifi network is unavailable.
PolyConnect 2.0: easy installation via a WiFi module installed in every Inverter heat pump as standard.
The PolyConnect Pro solution: to centralise and obtain all data in real time from the pool's connected equipment, transmitted to Polytropic's Technical Service (remote intervention).