Twenty years ago, BINDER GmbH & Co. KG successfully entered the pool sector with motors for pool covers. This family company from Hamelin (Germany) went on to perfect the HydroStar turbine counter-current swimming system, which proved to be very popular. An increasing number of people install turbine swimming systems in their pools and benefit from a current that imitates nature. BINDER will present its system to professionals during the Piscina & Wellness Barcelona trade fair.

A turbine swimming system adapted to all pools
People who try the turbine swimming system for the first time are amazed: the wide, powerful flow creates the sensation of swimming in a river. The current uniformly envelopes the body, thus enabling swimmers to concentrate entirely on swimming. HydroStar is also ideal for relaxation, rehabilitation exercises or simply for the pleasure of bathing.
The unique technology of Binder turbine counter-current systems has been recognised by several awards, including the German Brand Award and the Plus X Award. These prizes distinguish the patented operating principle, which guarantees not only the pleasure of swimming, but also exceptional energy efficiency: the electricity consumption of the systems is up to 80% less than that of pump-operated models.
HydroStar is currently available in several models, with flow rates ranging from 160 m3 to 1200 m3 per hour. Specialised dealers require much less time to install this compact system (which does not require additional openings or complex piping) than pump-operated systems.
BINDER also proposes a retrofit solution for existing pools: EasyStar. This adaptive system is easily installed on the pool coping for an instantaneous swimming experience. EasyStar offers the same power and features as HydroStar, with a flow rate of 160 m3 to 550 m3 per hour.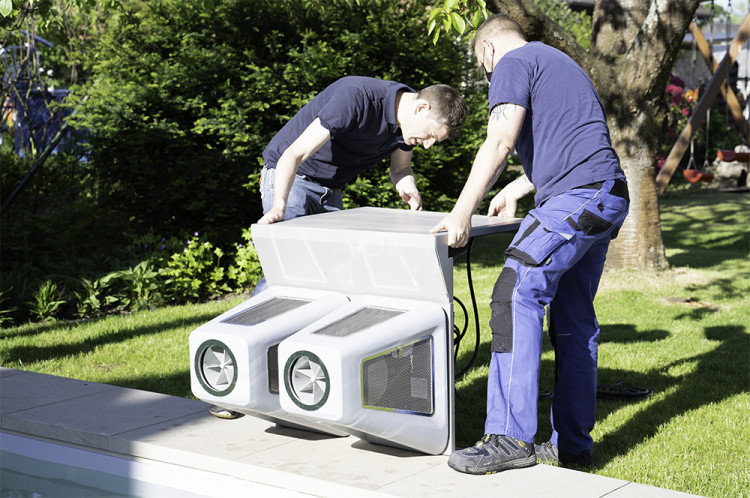 EasyStar is easily installed on the pool coping
The configuration of the current of turbine swimming systems can be entirely customised via remote control, a piezo-electric switch or an application. The latter can also be used to create personal training programmes or to control optional lighting systems.
Visitors will be able to discover this unique turbine technology on the Binder stand at Piscina & Wellness Barcelona.