The new outdoor sauna Harvia Solide creates an authentic heated outdoor relaxation area.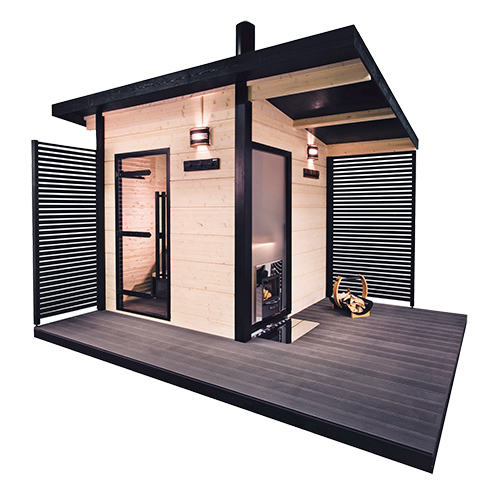 With its sleek and stylish design, it adapts to any contemporary architecture; the front can be painted to blend in with its surroundings. In order to let in a maximum of light, the stove is installed behind a translucent Duo glass wall, developed by Harvia.
This large glass partition provides a source of heat with a double role. It heats a patio or terrace at the same time as the cabin, depending on the type of sauna chosen, and can be used with any type of stove.

The sauna is delivered in a ready-to-assemble pack and can be mounted in one day. Depending on the desired configuration, the box includes a cabin or a sauna, a dressing section and an awning to shelter a spa or an outdoor kitchen. The included elements consist of beams, walls and ceiling in finished wood, felt for the roofing, slats for the decks, a glass door with aluminium frame, ground support structures and floor panels, as well as an outlet channel for wash water evacuation. For the interior, benches, lighting, stove and Duo glass wall are provided, as well as the piping and water heater.
The foundation is to be laid by the customer before installation (screw piles, column block or slab with reinforced edges).