ASCOMAT is participating in the Innovation Awards this year in Lyon by presenting the most unexpected element of the Harvia family, the ATV – an all-terrain sauna that can be taken anywhere.
By marketing a mobile sauna, the manufacturers offer users a true Finnish sauna experience, i.e. to enjoy your sauna whenever and wherever you like!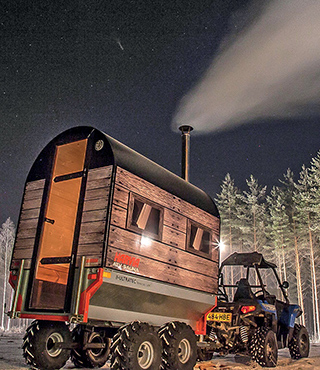 Feel like a sauna after a day on the ski slopes? The ATV can be taken to the bottom of the pistes to warm up in an original setting. Also available for rent, the adventure sauna, which is designed for 4 people, can highlight a bivouac among friends for a totally unique experience.
Equipped with a Harvia M3 SL wood stove, simple to heat from the exterior of the cabin, the ATV offers a pleasant sauna even with a small quantity of wood.
The stove is supplied with a WL400 protective sleeve and an exterior tubular water heater that can contain up to 22 litres of hot water.
The frame and structure of the cabin are ultra-reinforced and lined with extruded polystyrene panels placed between the interior panelling and the outer steel wall..
The stability of the sauna is guaranteed by a strut, which is practical in the case of rough terrain.
The transport of this trailer sauna, measuring 2 metres in length by 1.20 metres in width, is ensured by the tough all-terrain tyres that are necessary to haul its 480 kg.

With this product, Ascomat invites users to enjoy the sauna experience in the purest Finnish tradition: « Pitäkää hauskaa »! (« Enjoy yourself! »).