To be installed without any structural, tiling, waterproofing or drainage work (thanks to the integrated tank for recovering condensates), this new-concept cabin is entirely prefabricated.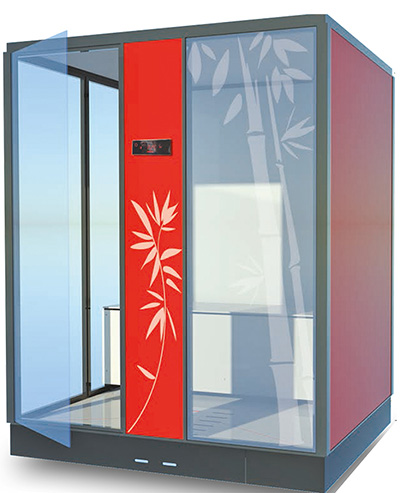 It consists of a mounting system with integrated seals that can be assembled in less than four hours. Then simply connect it to the water and electricity supplies.
Made up of 25mm extruded polystyrene foam insulating panels, white 8mm composite panels (for the inside of the cabin), an aluminium frame with colours as option, 6 mm tempered glass, a bench and decorative panels, the finish is discreet and sleek for a refined and elegant look with a trendy contemporary design.

To note also is its Harvia 4,5 kW steam generator and the touch-screen panel (for controlling steam diffusion and the integrated LED lighting).

The dimensions of this cabin for 4 persons are 1.70 m x 1.40 m x 2.10 m hgt.