Cubic Electrical's heat pump series including wifi and "inver-CORE" technology
"inver-CORE" technology by Cubic
"inver-CORE" is the unique inverter technology of Cubic heat pumps. Their proprietary "inver-CORE" program makes a highly efficient twin-rotary DC compressor and the DC brushless fan motor work perfectly together. This technology is programmed based on extremely long time testing to ensure the components achieve optimized performance at:
Extremely high COP
Quick heating time and significant energy savings
Super quiet operation
Soft start
Eco Star+ is powered by the advanced "inver-CORE" technology
This Inverter technology allows varying the speed of the compressor and fan motor. This allows the heat pump to achieve an extremely high COP up to 7.2 to 15.4. The heating capacity is up to 9 to 21.2kW. Inverter technology saves energy and accelerates the heating time.
Wifi connexion as an option to remote the heat pump
Eco star+ series also has the intelligent Wi-Fi function as an option. It allows the user or the pool professional to operate and control the heat pump remotely with a smartphone from anywhere, at any time thanks to the dedicated App.
It is then possible to remotely control the start or stop of the heat pump, temperature setting, Mode setting (Power / Smart / Silent), Time setting and Trouble shooting.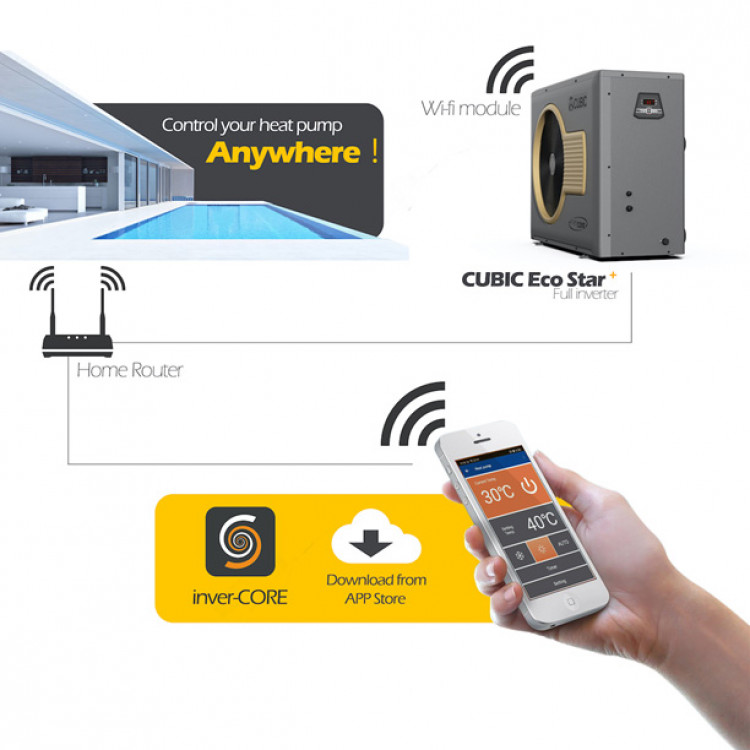 Control on smartphone app is easy to manage the Eco Star+ pool heat pump
In addition, Eco star+ series use R32 refrigerant which brings substantial benefits. R32 Global Warning Potential (GMP) level is only 1/3 of R410's one. This results in a dramatic drop on quota acquisition costs. In addition, R32 is more efficient with the same compressor size and allows a better heating capacity.
The Chineese company also proposes the Cubic iQ swimming pool heat pumps with attractive design and Supreme Heat Pumps with the optimum performance of the Full DC Inverter technology, or the Vortex Heat Pump full range heating capacity by Cubic.