Swimming pools with high water levels are on a roll. They offer a most aesthetic body of water with their very smooth mirror effect flush with the coping and are becoming increasingly popular with customers. This up-and-coming trend has led Filtrinov to launch a new version of its successful GS14 filtering wall.
An easy-to-install all-in-one filtering wall
The new version of the GS14 with mirror skimmer
In addition to the classic model, pool professionals can count from April on the new version of the filtering panel with mirror skimmer. Providing the same easy installation, suitable for swimming pools built out of polystyrene blocks, shuttered concrete blocks or breeze blocks and with the same contents as the original all-in-one GS14 filtering wall, with:
The removable cover and safety mechanisms
A 14m3/h filtration pump
A removable cartridge filter with basket (25 µ filtration fineness)
A 15.9 W spotlight with 270 coloured LEDs, with a luminous flux of 510 lumens, 11 colours and 5 animated sequences
The filtration and lighting control box
2 adjustable discharge nozzles
The same optional equipment as the classic GS14.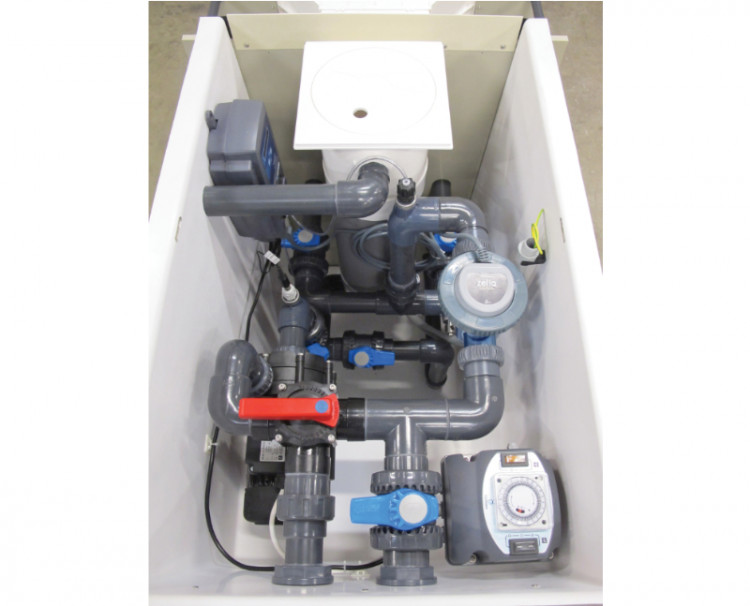 GS14 filtering wall with mirror skimmer
These elements have been supplemented for this new version with a mirror skimmer, with a very wide opening fitted higher up on the filtering panel - flush with the wall - to allow the skimming of the surface of swimming pools with a high water level. It is accompanied by an additional low suction nozzle which protects the pump if the water level is below the skimmer or if the filter cartridge is clogged.
The options for the new GS14 mirror skimmer are as usual the By Pass for possible pool heating and the salt chlorinator.